Despite a year of blistering criticism from gun control advocates about the National Rifle Association's hard-line stance against gun restrictions amid a spate of mass shootings nationwide, 58% in the U.S. have a favorable opinion of the NRA.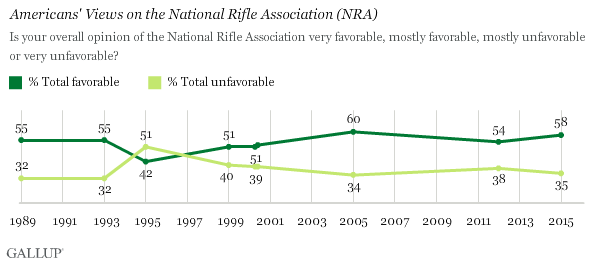 In a year plagued with mass shootings, including a recent tragedy at a community college in Oregon, there has been a national debate as to whether the NRA, with its ardent support for gun rights, is somehow complicit in these shootings. For example, Democratic presidential candidate Hillary Clinton has blamed the NRA for stifling the movement toward gun control. More broadly, some commentators in the news media and on social media have criticized the NRA for its theory that "a good guy with a gun" may stop "a bad guy with a gun" in mass shootings.
Yet in a Gallup poll from Oct. 7-11, a solid majority of Americans (58%) say they have an overall favorable impression of the NRA. This includes the highest recording of "very favorable" opinions (26%) since Gallup began asking this question in 1989. In December 2012, soon after the shooting at Sandy Hook Elementary School in Connecticut, 54% of Americans had a favorable impression of the NRA. The highest percentage in Gallup's 26-year trend was in 2005, when 60% of Americans viewed the organization favorably.
The lowest favorability rating was in June 1995, when 42% viewed the NRA favorably, at a time when the NRA sent out a fundraising letter calling federal law enforcement agents "jack-booted government thugs" in the wake of the Waco siege in 1993. This low favorability toward the NRA in 1995 was only compounded with the Oklahoma City bombing that spring, one month after the letter was sent to potential donors. This dispute resulted in former President George H.W. Bush publicly resigning from his lifetime membership in the NRA.
The Emergency Election Sale is now live! Get 30% to 60% off our most popular products today!