Homeland Security Newswire.com
August 27, 2012
The idea that disease and infection might be used as weapons is truly dreadful, but there is plenty of evidence showing that biological weapons have been around since ancient times.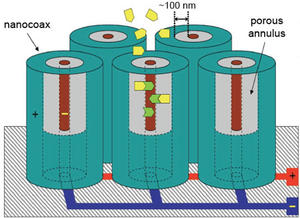 Schematic of one type of sensor device // Source: nanowerk.com
Bioterrorism is nothing new, and although medicines have made the world a safer place against a myriad of old scourges both natural and manmade, it still remains all too easy today to uncork a nasty cloud of germs. DHS's Science and Technology Directorate (DHS S&T) has scheduled a series of tests in the Boston subways to measure the real-world performance of new sensors recently developed to detect biological agents.
DHS says that S&T's Detect-to-Protect (D2P) Bio Detection project is assessing several sensors (made by Flir Inc., Northrop Grumman, Menon and Associates, and Qinetiq North America) to alert authorities to the presence of biological material. These devices with "trigger" and "confirmer" sensors have been designed to identify and confirm the release of biological agents within minutes.
Pick up the next evolution of activated nascent iodine today with Survival Shield X-3 now at 60% off!