Becky Yerak
Chicago Tribune
November 27, 2012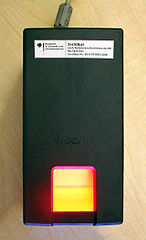 Photo by Sven Teschke, via Wikimedia Commons
Discover Financial Services Inc. employees will be able to pay by finger at their Riverwoods headquarters' cafeteria and convenience stores as they become the first to test a new payment system.
Discover, which is working with French biometrics firm Natural Security on the project and which plans to get the pilot underway in the next three months, has previously used hundreds of its employees to test new technologies including various "contactless" payments, in which credit cards are simply tap. It plans to test the fingerprint payment system with 300 to 350 employees.
Discover employees who want to participate will register at an on-site kiosk, which will read an index fingerprint and assign a number to it. Each employee will also receive a key fob with a chip that includes information about their individual credit-card account as well as their fingerprint.
[…] The credit-card company's test comes a few years after U.S. grocer Jewel abandoned its program with Pay by Touch, which got about $300 million in debt and equity financing from investors.
The Emergency Election Sale is now live! Get 30% to 60% off our most popular products today!