Douglas Main
Live Science
December 3, 2012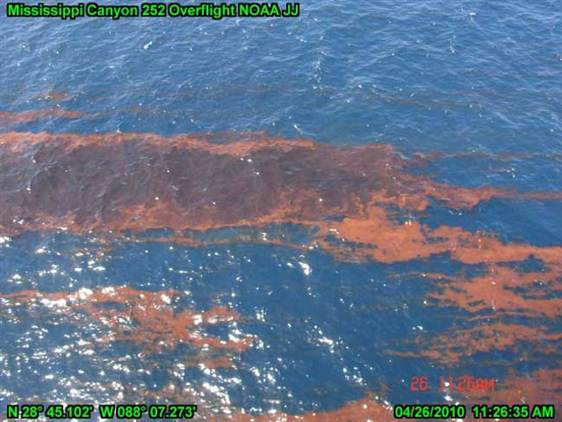 Photograph shows windrows of emulsified oil (bright orange) sprayed with dispersant. The photo was taken on April 26, 2010 as part of an aerial observation overflight. (via MSNBC / NOAA)
For microscopic animals living in the Gulf of Mexico, even worse than the toxic oil released during the 2010 Deepwater Horizon disaster may be the very oil dispersants used to clean it up, a new study finds.
More than 2 million gallons (7.5 million liters) of oil dispersants called Corexit 9527A and 9500A were dumped into the gulf in an effort to prevent oil from reaching shore and to help it degrade more quickly.
However, when oil and Corexit are combined, the mixture becomes up to 52 times more toxic than oil alone, according to a study published online this week in the journal Environmental Pollution.