Infowars.com
December 3, 2012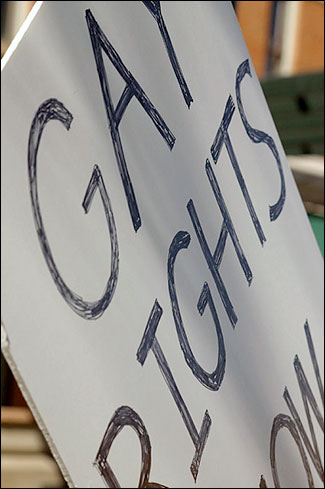 Photo: Drab Mayko.
The Department of Education has launched a federal investigation into comments made by an ROTC instructor in an Alabama school district.
After ROTC 1st Sgt. Lynn Vanzandt told a class he opposes same-sex relationships, a 15-year old student contacted GLBT Advocacy and Youth Services. The group complained to the school on behalf of the student, according to the Christian Post.
In November, the Department of Education involved the federal government in the complaint. It wrote a letter to GLBT Advocacy and Youth Services. The federal agency informed James Robinson, director of GLBT Advocacy and Youth Services, that the department would investigate whether or not students were "subjected to a hostile environment on the basis of sex or harassment based on failing to conform to gender stereotypes."
DOE also said the government will determine if the school district "retaliated against the student… by failing to respond and take action reasonably calculated to stop the peer bullying."
In addition to DOE and the homosexual advocacy group, an atheist organization based in Wisconsin, the Freedom From Religion Foundation, has involved itself in the case. The organization emailed the school district's superintendent and claimed Vanzandt "bullied" students and "preached" his belief that homosexuality is wrong to them.
The DOE response follows a report 2009 survey performed by the Gay Lesbian and Straight Education Network (GLSEN), a gay activist organization founded by former Obama administration's Education Department official Kevin Jennings.
"Harassment and bullying are serious problems in our schools, and lesbian, gay, bisexual, and transgender (LGBT) students are the targets of disproportionate shares of these problems," the letter sent by Education Secretary Arne Duncan stated.
The instructor has since apologized to the students for expressing his opinion about same-sex relationships. The Freedom From Religion Foundation responded by stating that an apology isn't enough.
The Department of Education is at the forefront of homosexual advocacy in public schools. In 2011, DOE sent a letter to federally funded schools about establishing clubs on campuses, specifically Gay-Straight Alliance clubs for lesbian, gay, bisexual and transgender students, CNSNews reported on July 8, 2011.