Joe Wolverton, II, J.D.
The New American
April 13, 2014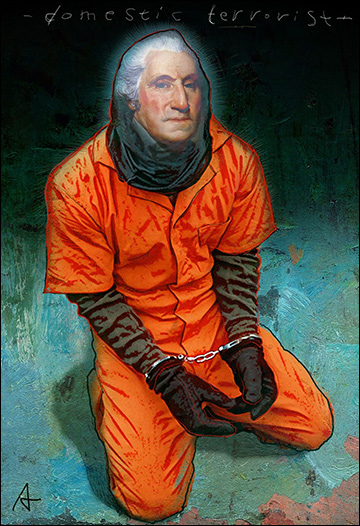 Days ago, the Obama administration demonstrated its dedication to the indefinite detention of Americans, as authorized by the National Defense Authorization Act (NDAA) by submitting a brief asking a federal judge to throw out a case challenging the constitutionality of that provision.
Among other astonishing arguments made by the Justice Department, this paragraph from page 9 is exceptionally unconstitutional:
On March 13, 2009, the government submitted its definition of detainable individuals under the AUMF to the United States District Court for the District of Columbia in the ongoing habeas corpus litigation brought by detainees held at Guantánamo Bay, Cuba … that definition includes … persons who were part of, or substantially supported, Taliban or al-Qaida forces or associated forces that are engaged in hostilities against the United States or its coalition partners, including any person who has committed a belligerent act, or has directly supported hostilities, in aid of such enemy armed forces.
The DOJ goes on to assert that since the NDAA does nothing more than restate authority already granted to the federal government in the Authorization for the Use of Military Force (AUMF), the plaintiffs lack standing; that is to say, they will be unable to demonstrate that the harm they claim to have suffered is related to the NDAA.
As readers will recall, Pulitzer Prize-winning journalist Chris Hedges is joined as a plaintiff in a lawsuit challenging the NDAA by a coterie of other prominent writers and commentators. Noam Chomsky, Daniel Ellsberg, and Icelandic politician Birgitta Jonsdottir all signed on to add their witness to that of Hedges that the fear of indefinite detention lurked within the shadows of vagueness of key terms in the NDAA.
The Reopen America Back to School Special is now live! Save up to 60% on our most popular items!