Kurt Nimmo
Infowars.com
January 3, 2012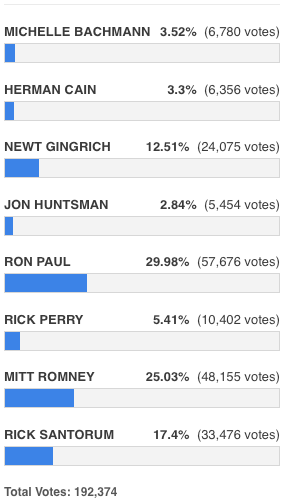 As should be expected, the establishment media is going bonkers over Mitt Romney. They declare he cannot lose.
But if polls hosted by the alternative media are any indication, Romney pales in comparison to Ron Paul. In fact, as of 2:30 PM CST, an informal poll hosted by the most popular and well-trafficked alternative news website – Drudge Report – puts Paul way ahead of the establishment's favorite RINO candidate.
Of course, the real voting in Iowa does not get underway until 8 PM EST, which means the corporate media has a few hours to engage in "breathless nonstop media coverage" (as The Christian Science Monitor unabashedly if sarcastically puts it).
Drudge represents an accurate snapshot of what the many Republicans want – not more of the same establishment shell game of broken promises and left versus right diversions – but real sincere change in Washington.
The GOP RINOs pushing Romney and Santorum and the rest – including the fake Tea Party princess Michele Bachmann (who performs dismally in this poll) – are fighting an up-hill battle against the desire on the part of millions of Americans to restore the Constitution and the promise of a constitutionally limited republic, something the candidates groomed by the GOP cannot deliver and only discuss in passing. Instead, they promise to attack Iran and – as Romney made all too clear – leave the Federal Reserve alone to do its job of destroying the economy and the livelihood of America.
Check out Drudge's poll here and vote for Ron Paul.
The Emergency Election Sale is now live! Get 30% to 60% off our most popular products today!