Dustin Volz
National Journal
April 30, 2014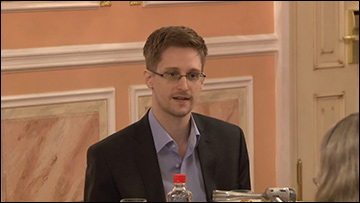 Edward Snowden told a crowd of fans Wednesday that the government's surveillance programs collect more data on Americans than any other country.
"Does the NSA know more about Americans in America than Russians in Russia?" Snowden said, appearing by live video during an awards ceremony in Washington. "We watch our own people more closely than anyone else in the world."
Snowden also took several shots at the National Security Agency and its top officials, and criticized the agency for wearing two contradictory hats of protecting U.S. data and exploiting security flaws to gather intelligence on foreign threats.
Be sure to get your improved boost of zinc and pregnenolone today with The Real Red Pill Plus now at 50% off!