Stephen Dean
RTV6 ABC
February 9, 2013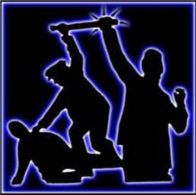 A seizure patient has filed a lawsuit against the Indianapolis Metropolitan Police Department, claiming officers beat and arrested him after mistaking his symptoms for being high on drugs.
In his federal civil rights lawsuit, Randy Lynn of Indianapolis claims he suffered an epileptic seizure after shoveling snow from a sidewalk in the 2500 block of West Washington Street on Feb. 2, 2011. He fell to the ground and suffered a bloody nose, prompting paramedics to be called.
When IMPD officers arrived, Lynn's lawsuit claims officers immediately assumed that he was intoxicated.
He accuses Officer Timothy Huddleston of forcing him back to the ground during a struggle, and then Officer Nathan Challis is accused of using a Taser to jolt him three times during his arrest.
The next evolution of activated nascent iodine, Survival Shield X-3, is back in stock at 50% off with double Patriot Points and free shipping!