By constantly pushing violence against President Trump, the mainstream media was completely complicit in the GOP shooting, and we are now offering cash rewards to people who can help expose their guilt to the public at large.
Ever since President Trump was elected, the establishment media has worked to create an atmosphere where it seems "acceptable" to kill the president, and the establishment's hope was that some deranged lunatic like the GOP shooter would attack Trump or his supporters.
Right after the shooting in Alexandra, Virginia, on Wednesday, CNN's Wolf Blitzer didn't even challenge a statement by a guest who claimed the shooter "wasn't evil" but was simply "tired of politics."
Mainstream reporters and entertainers are even relying on ISIS-style propaganda techniques to fuel a civil war to replace President Trump with a globalist puppet who will ensure the US remains a vassal to the elites.
Remember Kathy Griffin, for example, paying tribute to ISIS by holding up Trump's "severed, bloody head" in a mock video?
And there's of course the Broadway play depicting a violent assassination of President Trump that has defiantly stayed open after the recent shooting.
This is propaganda encouraged by the Deep State to fuel mass chaos the globalists can then use to break America forever.
We need your help to expose this. We need more patriots like the ones in this video:
Here's a quick rundown of what we need. For more details, visit Infowars.com/contest
CNN is ISIS contest!
We want you to win and do not want to create a bunch of boring rules. We also don't want to play games. If you make a good effort, that might get you a prize.
$1,000 prize for anyone who is seen on TV with a "œCNN is ISIS" t-shirt or sign.
$2,500 prize for anyone who is seen on TV with a "CNN is ISIS sign" and who also is heard to say, Infowars.com.
Follow the law. Do not trespass or violate any other state or local law.
This contest is open for the next 30 days, or until $200,000 in prizes have been given out.
You can pick your shirt below by clicking on the shirt you want, but you can also make your own shirts and own posters with the associated text.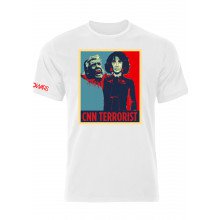 Here's some example designs you can use for signs:
If you're seen on TV wearing a "CNN is ISIS" t-shirt or sign, send your submissions to [email protected] or [email protected]
You can also tag @realAlexJones on Twitter under the hashtag #CNNisISIS
Again, this is fun! We want to award as many prizes as possible. Even if you don't quite make it on TV, post your pictures to Twitter and social media.
The Reopen America Back to School Special is now live! Save up to 60% on our most popular items!