Expose the mainstream media and win cash prizes with our #CNNisISIS contest!
Now it's more critical than ever after CNN's Fareed Zakaria referred to a Broadway play pushing the assassination of President Trump as a "masterpiece."
"Zakaria so enjoyed the bloody spectacle, was so enthused, he declared the play a "masterpiece" and publicly recommended it to others," reported the Daily Wire.
We have to help the public understand that CNN and the rest of the mainstream media are establishment-controlled corporations only pretending to be news outlets.
Check out how our friend Arthur forced the mainstream media to actually cover something besides establishment talking points:
Why don't YOU be like Arthur? Go confront the mainstream media!
Here's a quick rundown of the contest. For more details, visit Infowars.com/contest
CNN is ISIS contest!
We want you to win and do not want to create a bunch of boring rules. We also don't want to play games. If you make a good effort, that might get you a prize.
$1,000 prize for anyone who is seen on TV with a "œCNN is ISIS" t-shirt or sign.
$2,500 prize for anyone who is seen on TV with a "CNN is ISIS sign" and who also is heard to say, Infowars.com.
Follow the law. Do not trespass or violate any other state or local law.
This contest is open for the next 30 days, or until $200,000 in prizes have been given out.
You can pick your shirt below by clicking on the shirt you want, but you can also make your own shirts and own posters with the associated text.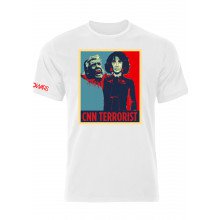 Here's some example designs you can use for signs:
If you're seen on TV wearing a "CNN is ISIS" t-shirt or sign, send your submissions to [email protected] or [email protected]
You can also tag @realAlexJones on Twitter under the hashtag #CNNisISIS
Again, this is fun! We want to award as many prizes as possible. Even if you don't quite make it on TV, post your pictures to Twitter and social media.
The Emergency Election Sale is now live! Get 30% to 60% off our most popular products today!