Infowars Nightly News
TheAlexJonesChannel
January 28, 2012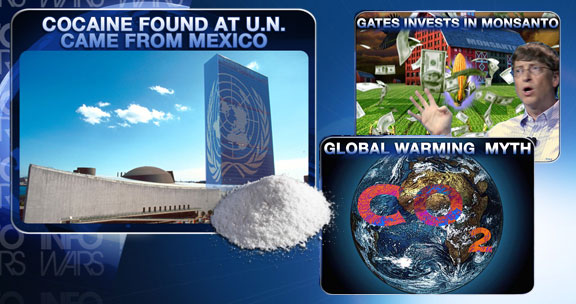 While global government bodies continue to promise a better world through consolidation, the real face of the New World Order comes in the form of forced GMO crops and drug scandals.
The purchase by the Bill and Melinda Gates Foundation of 500,000 shares of Monsanto stock is just one subset of his super-fund's hostile takeover of the global food and medicine china. Monsanto is the world's largest producer of genetically modified food, while the Gates and Rockefeller Foundations push AGRA on Africa, hinged around GMO drought-resistant crops.
Sixteen scientists have signed on to an op-ed published in The Wall Street Journal declaring there is no need to panic about so-called global warming and rush to "decarbonize" the world– instead, it's part of an agenda that considers man an "enemy".
The declaration of the "failure" of global governance at the 2012 Davos World Economic Forum nexuses in with systematic corruption in the world system. Most recently, this takes the form of a scandal surrounding 30 pounds of cocaine that has turned up at world government central, the United Nations in New York City where many enjoy diplomatic immunity and gross power.
Our 4th of July Super Sale has been extended! Get double Patriot Points and free shipping on the hottest items!