People on Twitter wished "Jerry Lee Lewis" farewell Sunday after CNN wrongly identified the legendary singer in a breaking news headline intended to report esteemed actor/comedian Jerry Lewis' death.
God. If it wasn't obvious enough that @cnn was #fakenews, they confuse JERRY LEWIS (comedian) with JERRY LEE LEWIS (musician). @mcjpizzle pic.twitter.com/m6YX2fuZvC

— JP (@realjpbook) August 20, 2017
Cnn headline says Jerry lee Lewis dies

— Jason Shout (@JaySchout) August 20, 2017
No cnn jerry lee Lewis did not die😪 Jerry Lewis died. 2 very different people pic.twitter.com/SFBwoSe27G

— akaTerr (@patrickrf04) August 20, 2017
Figures that a second rate supposed news organization like @CNN would claim that Jerry Lee Lewis died when it was actually Jerry Lewis. Fail

— Randy Krone (@RandyKrone) August 20, 2017
Paste and Daily News are saying Jerry Lewis died, CNN is saying Jerry Lee Lewis died. Y'all know this not the same person right?

— WhatsApp Ricky (@studio_dad) August 20, 2017
And the winner of the Jerry Lewis / Jerry Lee Lewis Cock-Up Medal goes to @CNNent pic.twitter.com/5p97uVhIck

— Alistair Coleman (@alistaircoleman) August 20, 2017
The "fake news" media outlet's erroneous headline was subsequently featured at the top of Twitter, misinforming and confusing those who rely on the social network and CNN for news.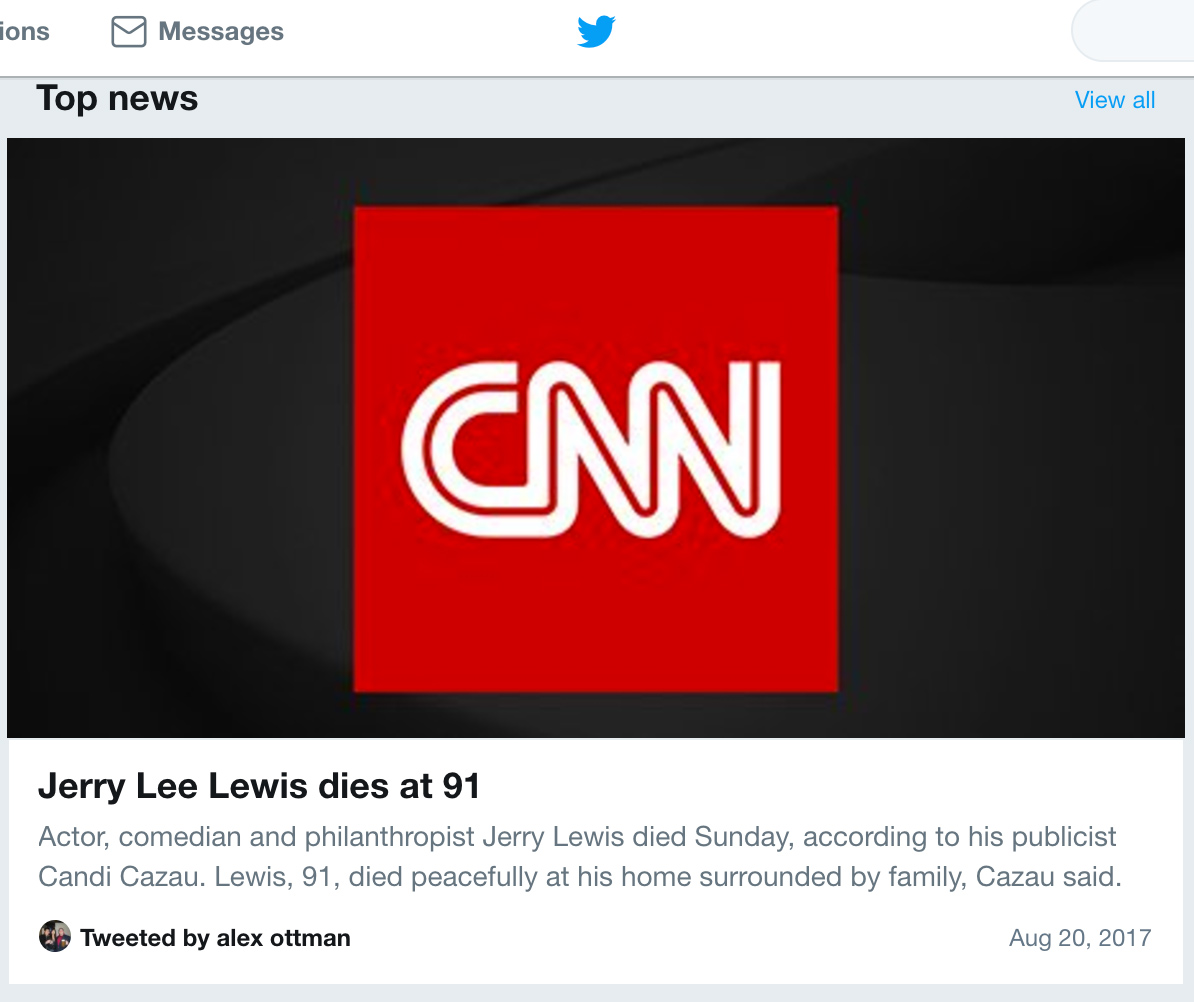 Many on Twitter were upset over the "Great Balls of Fire" singer's reported demise and wished the performer would rest in peace.
RIP Jerry Lee Lewis. "Great Balls of Fire" is one of my all-time favorite songs.

— Not Elroy Fudge (@NotElroyFudge) August 20, 2017
RIP #JerryLeeLewis

— Kerem Akalın (@Darkblack1977) August 20, 2017
Two legends gone Dick Gregory and Jerry Lee Lewis. RIP

— Col (@pixiemutt) August 20, 2017
wot the fuck jerry lee lewis has died i am UPSET

— amy (@wotsuhthedeaI) August 20, 2017
Jerry Lee Lewis III, son of "The Killer," took to Twitter to clarify.
My father did not pass. Thank you for thinking of us though. The great Jerry Lewis, actor and humanitarian passed. Lord let him RIP

— Jerry Lee Lewis III (@JerryLee3rd) August 20, 2017
Jerry Lewis Dead At 91 – The Rest Of The Story

Posted by Alex Jones on Sunday, August 20, 2017
Our 4th of July Super Sale has been extended! Get double Patriot Points and free shipping on the hottest items!