American Overkill
December 15, 2012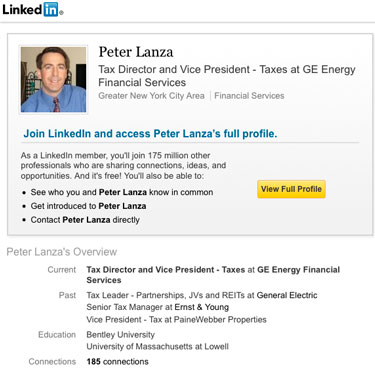 According to ABC and Yahoo news, the alleged shooter at the Sandy Hook Elementary School, Adam Lanza, is the son of Vice President of GE Capital, Peter Lanza. Peter Lanza is also a partner at Ernst & Young, and major accounting firm. The older brother, Ryan Lanza, is also reported to be employed at Ernst & Young.
Peter Lanza, who drove to northern New Jersey to talk to police and the FBI, is a vice president at GE Capital and had been a partner at global accounting giant Ernst & Young.

Adam's older brother Ryan Lanza, 24, has worked at Ernst & Young for four years, apparently following in his father's footsteps and carving out a solid niche in the tax practice. He too was interviewed by the FBI. Neither he nor his father is under any suspicion.
Another report from Stamford Advocate says Peter Lanza is vice president of taxes for GE Energy Financial Services and also an adjunct professor a Northeastern University in Boston since 1995. The facts have been sketchy and changing from hour to hour.
After 28 years of marriage, Peter and Nancy Lanza divorced. Nancy Lanza was found shot at her home. A source told The Post Ryan has told investigators he last saw Adam in 2010 and that Adam is autistic.
The tragedy is also being politically exploited for tighter gun control. If they ever get guns banned in the U.S., the politically unfavorable will be quickly rounded up and we will get a Soviet style authoritarian system magnified by 100. It is not the guns doing the shooting, but the people. Some of the "leaders" in the U.S. want to get the guns away from the citizens. I don't know what the answer is to the violence that permeates the United States, but it is likely a symptom of a very sick society. Nobody is shedding tears for the thousands of children who die from U.S. bombs. A nation that exports violence around the planet with an elite core of individuals that profit from it, is destined to be troubled domestically. It's a karmic certainty.
Obama's tears
Are Obama's tears fake like some people are suggesting? Obama has no compunction to order bombings all over the place which regularly kill civilians including children. He also authorizes the killing of Americans, so it's very hard to believe that his tears are real, although anything is possible in this strange world.