KTVU
April 25, 2013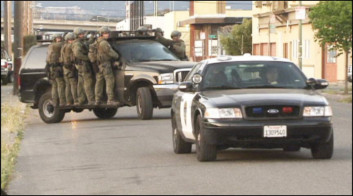 A massive law enforcement sweep was underway in Oakland Wednesday, with nine people having reportedly been detained an hour after it was first reported.
FBI agents, local police SWAT and the California Highway Patrol were targeting multiple locations.
Several streets were closed down in West Oakland during the sweeps. Portions of Seventh and Eighth streets were shut down in the area for at least 90 minutes and while helicopters circled overhead.
[…] Oakland Police and other agencies involved told KTVU that the participating departments were not at liberty to discuss what the action concerned.
Be sure to give your body the powerful multivitamin formula it needs with Vitamin Mineral Fusion now at 40% off!