Kurt Nimmo
Infowars.com
November 20, 2012

The FBI has offered the public yet another bit of war on terror theater with the arrest of four young men in California. FBI spokeswoman Laura Eimiller told the media the men were arrested for claiming they had planned to join al-Qaeda and the Taliban and bomb government facilities and public places.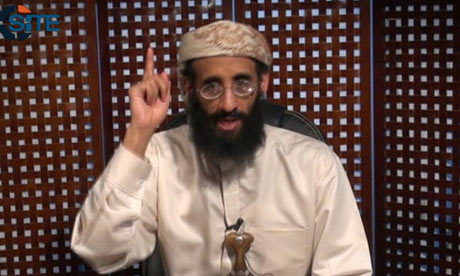 Supposed terrorists are followers of FBI and Pentagon asset Anwar al-Awlaki.
According to a federal affidavit dated November 16, Sohiel Omar Kabir, Ralph Kenneth Deleon, Miguel Alejandro Santana Vidriales and Arifeen David Gojali conspired to provide material support to terrorists and "kill, kidnap, maim, or injure person and damage property in a foreign country."
The FBI launched an investigation and eventually arrested the individuals after an agent engaged in a "covert capacity" conversation with Santana online. He had previously told a DHS Customs and Border Protection agent at the Mexican border in San Ysidro, California, that he had converted to Islam and was carrying a copy of Inspire, an English language online magazine supposedly published by al-Qaeda.
The defendants were allegedly influenced by Pentagon dinner guest and FBI asset Anwar al-Awlaki. The FBI affidavit describes al-Awlaki as a "Jihadi Radicalizer" who is "unique" for his "role in the radicalization process, serving as a critical link that takes dedicated students of Salafi-jihadi ideology from an inspirational to an operational mode."
In 2010, we reported that al-Awlaki dined at the Pentagon a few months after the 9/11 attacks. "American-born cleric Awlaki's role as a key figure in almost every recent terror plot targeting the United States and Canada, coupled with his visit to the Pentagon, only confirms our long stated position that Awlaki is a chief terrorist patsy-handler for the CIA – he is the federal government's premier false flag agent," Paul Joseph Watson wrote at the time.
According to the official 9/11 narrative, al-Awlaki preached to three of the alleged 9/11 hijackers, the accused Fort Hood shooter Nidal Malik Hasan and the so-called underwear bomber, Umar Farouk Abdulmutallab. According to the government, he was promoted to the rank of "regional commander" within al-Qaeda in 2009. He was added the CIA's list of targets because he was considered an "imminent threat" in 2010.
He was allegedly killed in October of 2011 by a CIA Predator drone in Yemen. The following year, he supposedly called for biological attacks on America from the grave.
The FBI case against the four men in California is based on little more than mindless braggadocio. During a conversation with the FBI informant at a shooting range, Deleon and Santana said they wanted to use C4 explosive overseas. "I wanna do C-4s if I could put one of these trucks right here with my, with that. Just drive into, like, the baddest military base,' Santana allegedly said, according to the federal complaint. "I'm gonna do that, I'm gonna take out a whole base. Might as well make it, like, big, ya know."
Both supposedly said they looked forward to becoming a shaheed, the Arabic word for martyr.
According to the FBI, Kabir traveled to Afghanistan and communicated with Santana and Deleon so he could arrange for their travel to join terrorist organizations. 21-year-old Arifeen David Gojali was later recruited. The FBI told Santana it would purchase travel tickets for Gojali.
Each defendant faces a maximum sentence of 15 years in federal prison if convicted.
The FBI has arranged a large number of terrorism "stings" since the attacks of September 11, 2001, in order to make the case that it is tracking down and prosecuting terrorists.
A report by Mother Jones and the Investigative Reporting Program at the University of California-Berkley released in 2011 revealed that it is now common practice for the FBI to create terror plots from scratch and entrap witless and even mentally ill patsies.
"The report reveals that the FBI regularly infiltrates communities where they suspect terrorist-minded individuals to be engaging with others. Regardless of their intentions, agents are sent in to converse within the community, find suspects that could potentially carry out 'lone wolf' attacks and then, more or less, encourage them to do so. By providing weaponry, funds and a plan, FBI-directed agents will encourage otherwise-unwilling participants to plot out terrorist attacks, only to bust them before any events fully materialize," RT reported last August.
The Reopen America Back to School Special is now live! Save up to 60% on our most popular items!