Kurt Nimmo
Infowars.com
March 15, 2013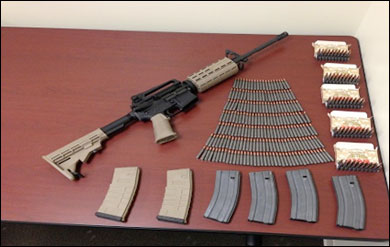 Benjamin Wassell of Silver Creek in upstate New York was arrested on Thursday and charged with violating the most restrictive gun law in America passed in the wake of the Sandy Hook massacre in neighboring Connecticut.
Wassell was reportedly entrapped by a New York cop who "told Wassell at one meeting that he had a prior felony conviction," the Associated Press reports today. The Silver Creek man sold two semi-automatic rifles – a DelTon DTI-15 rifle and an Armalite AR-10 Magnum rifle – and 300 rounds of ammunition to the undercover officer. The sale is a felony under the recently enacted law. Wassell faces up to seven years in prison.
The frame-up was the "result of a joint investigation between the Attorney General's Office and the New York State Police," reports WBNG 12 Action News in Binghamton, New York.
New York's Attorney General Schneiderman was quick to exploit the undercover sting for all of its propaganda potential.
"By selling these illegal firearms, Mr. Wassell's actions had potentially dangerous consequences for New Yorkers," he said. "We have seen far too much gun violence in our state in recent months and the sale of illegal semiautomatic weapons will not go unpunished. I commend the work of investigators in this case who helped send a message that these types of illegal gun sales will not be tolerated."
"The defendant is accused of illegally selling assault weapons not once, but twice," said New York State Police Superintendent Joseph D'Amico. "Add to that, he was willing to sell to someone without knowing anything about their background and it's exactly the type of dangerous and illegal activity that can lead to more gun violence in our communities. Once again our partnership with the Attorney General's office has resulted in taking a dangerous criminal off the streets."
By the way, people who know what's coming are taking advantage of our healthy & delicious storable food!