Aircraft took off from San Antonio and loitered downtown Austin.
Infowars.com
July 3, 2013

UPDATE: Flight path could be false alarm; although flight path looks similar to large aircraft reported, air speed and airports point to a single-prop plane, such as a Cessna on a sight-seeing trip.
A sharp Infowars.com reader sent a possible recording the flight path of the large, mysterious aircraft that flew very low in downtown Austin, Texas such as the one we reported recently.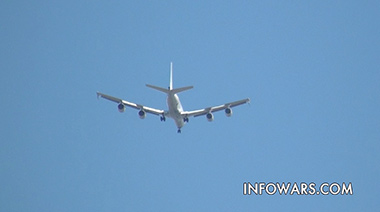 According to the recording, Flight N3MK can be seen loitering downtown Austin at elevations as low as 1,600 feet and air speeds as low as 76 knots, which is roughly equivalent to 93 mph.
From the flight path, it is apparent that Flight N3MK specifically flew to downtown Austin. After circling very low around the State Capitol and skyscrapers several times, the plane flew to northwest Austin and loitered around the Loop 1 Mopac and Highway 183 overpass at altitudes around 2,000 feet.
As shown on FlightAware, a web site for live flight tracking, Flight N3MK is listed as an unknown aircraft.
The flight is shown to have departed from Twin-Oaks Airport in San Antonio, Texas and has a listed destination of Lockhart Municipal Airport. The flight duration is shown to be one hour and 34 minutes.
The flight path displayed on FlightAware corresponds to the recorded flight path sent in by the reader on flightradar24.com.