Prada.Ru
April 28, 2014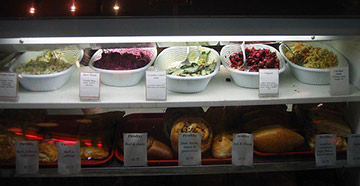 In Russia, prices on food products grow 40 times faster than in Europe, experts said.
Russia's Federal Statistics Agency, Rosstat, announced price growth details in the first quarter of 2014. According to him, food products become more expensive in Russia 40 times faster than in Europe. Experts explain such a significant difference with the ruble devaluation, as it is mainly imported products that become more expensive.
Currently, imported foodstuffs make up a lion's share of the range of Russian food stores. The main "culprits" of this trend are fruit and vegetable crops that Russia imports during cold seasons. Food prices also grow because of imported coffee, tea, dairy products, meat and fish.
Experts also emphasize the influence of inflation and low competition on the market, which is traditionally stronger in Europe than in Russia.
The Reopen America Back to School Special is now live! Save up to 60% on our most popular items!