Ian Traynor
The Guardian
June 26, 2012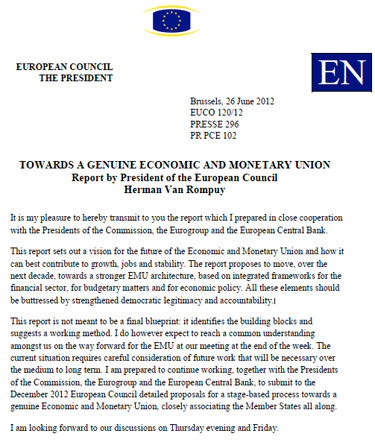 European leaders have drafted a radical plan to turn the 17 countries of the eurozone into a full-fledged political federation within a decade in an attempt to placate the financial markets by demonstrating a political will to save the single currency in the medium-term.
The incendiary proposals for a banking, fiscal, and economic unions resulting in a "political union" are to be debated at an EU summit on Thursday and Friday. Following two bad-tempered meetings of European leaders in Mexico and Rome over the past week, the Brussels summit looks likely to see major clashes over the future of Europe as well as the immediate crisis surrounding sovereign debt, bad banks, and the euro's survival.
The crisis has shifted from the periphery of the EU to its very heart, with Berlin and Paris seriously at odds for the first time since the Greek drama started 30 months ago. The logic of the draft proposals will also pose major dilemmas for David Cameron, perhaps putting Britain at a crossroads in its relationship with the continent.
The seven-page document, obtained by the Guardian, has been drafted by the "gang of four" — a quartet of European presidents: Herman Van Rompuy of the European Council, Mario Draghi of the European Central Bank, José Manuel Barroso of the European commission, and Jean-Claude Juncker of the 17-country Eurogroup.
France 'ready to share budget sovereignty'
AFP
June 26, 2012
France must agree to share sovereignty over its budget with its EU partners, French Budget Minister Jerome Cahuzac said on Tuesday.
He told BFM TV and RMC radio: "This is what we are talking about, budget solidarity in Europe which implies that not only that the French budget, but also the German, Italian and Spanish budgets be subjected to a review by all our partners."
He said: "This does not mean abandoning sovereignty, it is sharing." >>>READ FULL ARTICLE
The Reopen America Back to School Special is now live! Earn double Patriot Points on our hottest items!