Shocking video of officers beating unarmed homeless man to death rocks the City of Fullerton
Adan Salazar
Infowars.com
May 8, 2012
Almost a year after the brutal beating of Kelly Thomas by the police of Fullerton, CA, the officers that coaxed the fray are finally having their preliminary hearing date.
Kelly Thomas
Kelly Thomas was the 37-year-old homeless schizophrenic man that was first verbally abused, then tackled by officer Manuel Ramos and Cpl. Jay Cicinelli, and then later subdued by taser by four other police officers. Thomas suffered a coma for five days after the altercation and then passed away when taken off life support.
Now comes new damning testimony in the case by the most unlikely of key witnesses – prosecution exhibit #4, big brother. (Chalk one up for the surveillance grid—it finally caught an actual crime taking place!)
It seems that while officers Ramos and Cicinelli were busy riding their power trips, an all-seeing eye was recording the entire confrontation as it unfolded.
The grainy street-cam video was presented to the court Monday, and according to the footage it took a total of six officers to subdue the non-violent, unarmed offender.
The video begins with officers forcing an unlawful backpack search, a familiar tactic that is becoming a normality. Officer Ramos presents his request with the guise of wanting to get on with his day: "We just gotta figure out your name so we can get outta here and go about our business, that's all."
Three minutes into the video, it's evident Ramos was just looking for an excuse to start a fight. Officer Ramos can be heard muttering obscenities to Thomas while putting on latex gloves: "Now, you see my fists? … They're getting ready to f— you up … If you don't start f—— listening." The officers lay in on Thomas with billy clubs and dog pile on him while kneeing at his ribs.
Thomas' screams and cries for help go unheeded as even more officers arrive and begin tasering.
Near the end of the video a pool of Thomas' blood can be seen, the bright lights from the ambulance reflecting off the puddle.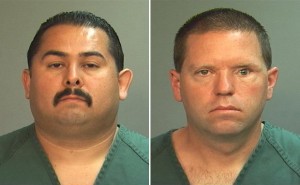 If convicted of 2nd degree murder Officer Ramos faces a maximum of 15 years to life; if he's convicted of a lesser crime like involuntary manslaughter, the sentence will be reduced to a maximum of 4 years. Cicinelli faces 4 years if convicted.
Both Ramos and Cicinelli have pled not guilty. Ramos' attorney, John Barnett, states, "There is insufficient evidence to prove the charges against my client…There is no theory of facts upon which a murder charge be sustained."
With the help of this key video evidence, officer Ramos, a 10-year veteran, and Cicinelli, a former Marine, will hopefully be made examples of and justice should hopefully prevail. The story is being monitored and updated by Larry Welborn and Lou Ponsi of the Orange County Register.
It's vital that we call attention to this story. There's a startlingly increasing trend in police abusing their powers; it's seeped deep to local, county, and state levels.
While the officers are not directly operatives of the NWO, they serve as unwitting accomplices, paving the way for public indoctrination into a dominating police state where orders are to be followed or else. It is imperative that police around the world be held accountable for their actions whenever possible.
If the Orange County District Attorney can convict Ramos and Cicinelli, it will be a milestone for justice against our oppressors. Although it will not bring Kelly Thomas back or take back the things that were done to him, at the very least it will serve as a warning to police who abuse their authority. Big bro's watching you too!
Watch Alex and Darrin's exposè on the rise of the police state. One oaf of an officer tells a protester blowing bubbles that if one bubble touches him, the protester will be handcuffed and charged with assault. This is truly an epidemic of degenerate proportions.

UPDATE 5/8/12 3pm:
According to the L.A. Times Ramos' lawyer is claiming it was the medics at St. Jude Medical Center that treated Thomas that were ultimately responsible for his death.
However Dr. Michael Lekawa, chief trauma surgeon at UCI (where Thomas was later transferred), under questioning from Barnett, stated St. Jude's "did everything right."
He acknowledged that doctors at St. Jude had informed him about the difficulty of inserting a breathing tube into Thomas' mouth necessary to deter low levels of oxygen in the blood.
Although he testified prior to viewing the video, after seeing it Lekawa could see why, under the weight of the officers on top of him, Thomas' brain was starving for oxygen.
Our 4th of July Super Sale has been extended! Get double Patriot Points and free shipping on the hottest items!