Donna Anderson
Infowars.com
February 13, 2013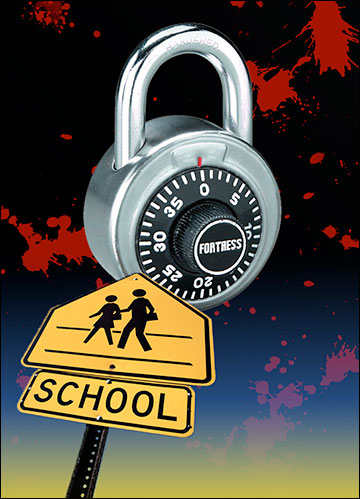 Shielding himself once again behind the victims of Aurora, Colo., and Sandy Hook Elementary, and this time adding congresswoman Gabby Giffords to the recipe of guilt and terror he's trying to create, President Obama called for Congress to act on all of his gun control proposals during Tuesday night's State of the Union address.
But the assault that occurred at Withrow High School last week proves once again that if a deranged lunatic wants to attack someone, he's going to use any weapon at his disposal, even if it's something as crude and readily-available as a simple combination lock.
Precious Allen, 31, is charged with felonious assault and aggravated criminal trespass in an assault that seriously injured one student and left one teacher with a black eye. The assault occurred inside a classroom at Withrow High School in Cincinnati, Ohio. Precious Allen was assisted in the assault by her daughter and another adult female. The weapon of choice? Fists… and a combination lock.
At around 2 p.m. on Thursday, February 22, Allen, accompanied by her 14-year-old daughter and 28-year-old Dawn Brunner of Covington, Ky, entered the school, burst into the classroom and began beating a 15-year-old student with their fists and a combination lock. At one point, Allen even held the victim down and instructed her daughter to strike the girl in the face with the lock.
Although juvenile court records are not available, the police report states that Allen's daughter was arrested on charges of felonious assault, assault, and criminal trespass. According to court records, Brunner was also charged with criminal trespass.
The victim of the brutal attack, a 15-year-old girl, suffered cuts and bruises all over her face and body, and a teacher who tried to stop the assault ended up with a black eye.
No mention is made of how the women were able to enter the school and barge into a classroom, nor is there anything to indicate who owned the lock or whether the weapon was legally registered.
Police and Cincinnati Public School officials are will be analyzing the situation and plan to institute measures so that nothing like this will ever happen again. Perhaps next school year they'll have an armed guard at every door and all students will be required to pass a psychological test and register their combination locks.
The next evolution of activated nascent iodine, Survival Shield X-3, is back in stock at 50% off with double Patriot Points and free shipping!