Awr Harkins & Neil McCabe
Breitbart
March 11, 2013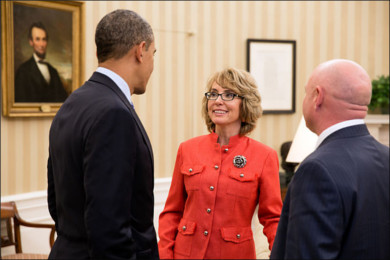 Mark E. Kelly, gun-control proponent and husband to former Congresswoman Gabby Giffords, recently purchased an AR-15 (an "assault weapon," he called it)—which he now says he intended as an illustration of the need for more stringent gun laws.
Kelly reportedly bought the AR-15 and a 1911-style semi-automatic pistol at a gun store in Tucson, Arizona.
Breitbart News received a tip on this when Neil McCabe, editor of Guns & Patriots newsletter, contacted us on March 7 and said:
Mark E. Kelly, made purchases which included an AR-15–sometimes described as an "assault rifle"–at 3:30 pm on the afternoon of March 5 at Diamondback Police Supply, 170 S. Kolb Street, Tucson, AZ.
According to McCabe, witnesses to the purchases claimed Kelly purchased "high capacity" magazines as well.
Giffords' husband explained away his purchase of an AR-15 on CNN's The Situation Room; he says he always intended to turn the firearm over to Tucson PD:

By the way, Infowars' most powerful product is back in stock! Get DNA Force Plus up to 50% off now!