Infowars
August 10, 2011
Only days after the S&P downgraded the U.S. credit rating from AAA and with France poising for downgrade, gold commodities hit another all-time high, soaring past $1800/oz.
The price reached $1808.60 late in the day (18:42 EST GMT) after touching $1801 earlier, fluctuating back and forth between the record psychological barrier. Gold eventually closed at $1795.40. Silver reached $39.40, gaining slightly.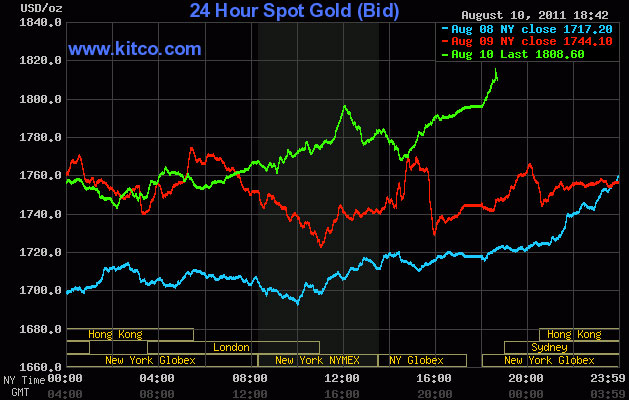 Gold also surpassed Platinum, now at $1768/oz., which has historically held even more value, with a five year high of $2252/oz.
This leads analysts to expect that $2000-2500/oz gold or higher is easily possible by the end of the year. Continuing low interest rates from the Federal Reserve printing press as well as the recent downgrade of the U.S. credit rating both serve to further weaken the economy and dollar day by day.
{openx:49}