Christopher Brennan
Observer.com
November 28, 2012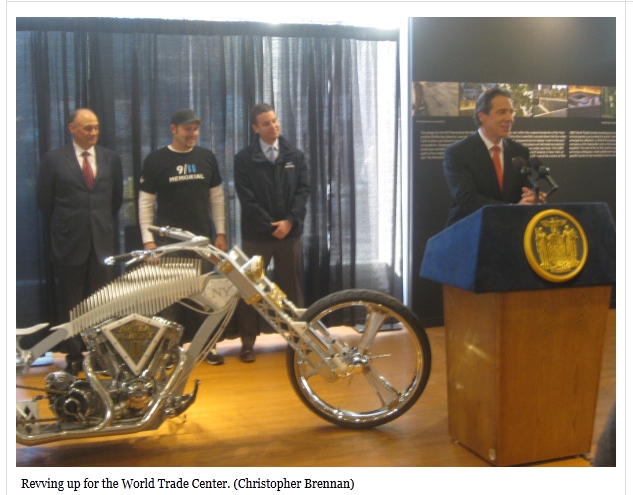 Screen capture from Observer.com

The press cameras started clicking when the chug of the motorcycle became louder and louder, nearing the room's front entrance. Paul Teutul Jr., the mustachioed and baseball-hatted owner of biker merchandise company Paul Jr. Designs, revved and wobbled his motorcycle through the door up to the speech podium on the first floor of 90 West Street, a dowdy Financial District building not far from the Battery.

Mr. Teutul was soon joined by Governor Andrew Cuomo, World Trade Center contractor Dan Tishman and 9/11 Memorial president Joe Daniels. They all praised the return of the bike to its place in the 9/11 Memorial Visitor Center, which had come under four feet of water one month ago during Hurricane Sandy and had been the chopper's home since October of last year.

The motorcycle, which includes gold plating and parts modeled after the design of the new World Trader Center buildings, was completely submerged except for a tiny piece of its handlebars. To repair the damage done by the saltwater, Teutul took the bike back to his workshop upstate, from where it made its triumphant return today.

The Reopen America Back to School Special is now live! Earn double Patriot Points on our hottest items!