Kurt Nimmo
Infowars.com
June 29, 2011
Photo: Mike Herpel.
Gold traded higher for a second day on word that the government of Greece will accept austerity measures despite the overwhelming rejection of the IMF and EU plan by the Greek people.
"By now we think (the Greek vote) should be priced and the gold price shouldn't react to a large extent if the austerity package is really approved later in the day," Commerzbank analyst Daniel Briesemann told Reuters.
Reuters reported that its 19-commodity index rose 1.7 percent on Tuesday, the most significant daily rise in nearly six weeks, driven primarily by the news from Greece.
In addition to boosting gold, the news pushed the euro up over the dollar. Speculation that the Greek crisis will not stop the European Central Bank from raising interest rates next week also contributed to the fall of the dollar, according to Bloomberg. The ECB raised its benchmark rate in April for the first time in almost three years, lifting it by a quarter point to 1.25 percent.
Spot gold was up 0.5 percent at $1,5 08.11 an ounce this morning. Earlier in the week, losses undercut the price and sent it below below $1,500.
Over the last few weeks, market participation was down on risky assets such as gold and oil, according to Yingxi Yu, an analyst at Barclays Capital.
Silver also realized a gain, hitting $34.49 per ounce.
—
Alex Jones and Midas Resources has come together to offer you three of the most hard hitting videos ever produced: End Game, Obama Deception, and Fall of the Republic.
After viewing this collection you will know who is pulling the strings of our puppet government. It's not about Left or Right: it's about a One World Government. The international banks' plan to loot the people of the United States and turn them into slaves on a Global Plantation.
If you want to know the facts and cut through all the hype, this eye-opening film collection is for you. For a limited time this collection is being offered with three constitutional silver dollars, the real money our for-fathers intended for us to use. Order this special collection today and get the perfect solution to the perfect economic storm.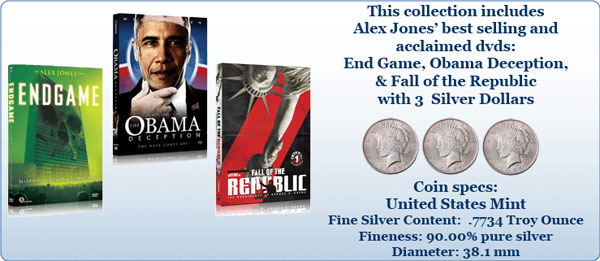 Experience the massive benefits of our Ultimate Krill Oil now at 50% off!