It's no secret Google's politics lean left.
Most can agree, however, search engine results should best reflect the keywords queried so users can get exactly what they're looking for.
A search conducted by an Infowars employee Tuesday illustrates what happens when corporations let politics get in the way of their business model.
In the following screenshot taken Tuesday morning, it's evident Google's censoring algorithm could not compute a user query asking to see: "worst signs march for our lives rally."
Instead Google acts as if the user asked to see the "best signs."
It should go without saying the term "worst signs" wasn't in the fawning, progressive liberal mainstream media's lexicon over the weekend, most of which published articles highlighting the "best signs."
While Google sacrifices accuracy for the sake of an anti-gun agenda, Yahoo and Bing provided search results closer to what the user may have been looking for, even including an Infowars repost from the Daily Caller presenting "a few of the most obnoxious signs" from the rally.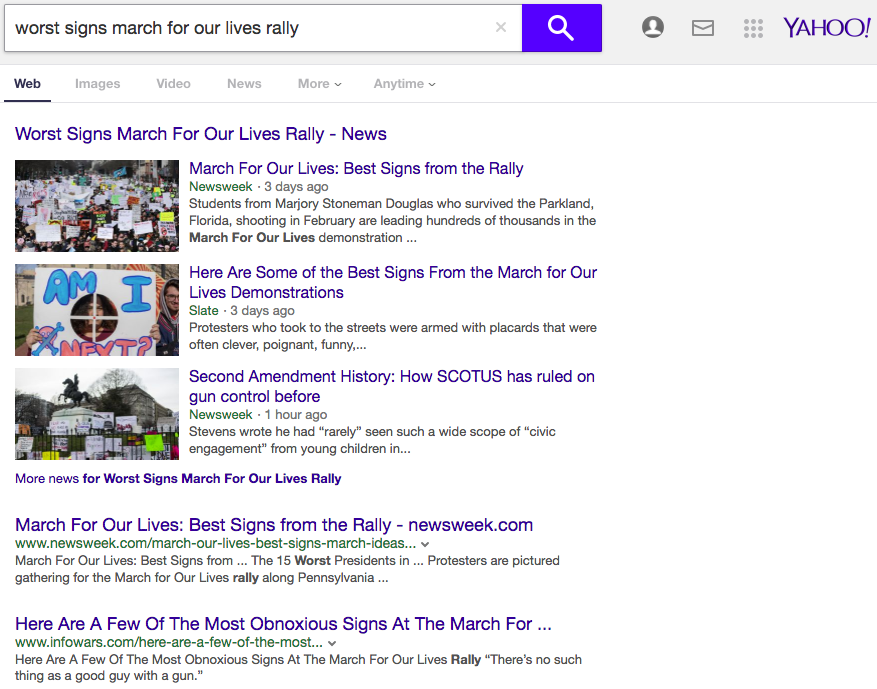 Google was also criticized during the 2016 election after they were caught manipulating algorithms to present more positive search suggestions for Democrat candidate Hillary Clinton.
Google has helpfully censored questions about Hillary's health. #HillaryClintonSearchTerms pic.twitter.com/qzDRZgNUMh

— Paul Joseph Watson (@PrisonPlanet) August 27, 2016
---
Also, make sure to get your boost of zinc and pregnenolone today with The Real Red Pill now at 50% off!