Andrew Stiles
National Review Online
November 16, 2013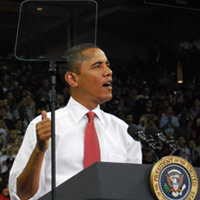 Conservatives often argue that the federal government should function more like a private business. Obamacare supporters should be grateful it does not, because otherwise HealthCare.gov would almost certainly run afoul of the Federal Trade Commission (FTC), as well as of the recently established Consumer Financial Protection Bureau (CFPB).
Orson Swindle, who served as an FTC commissioner from 1997 to 2005, says there are a number of practices that, if HealthCare.gov were a private entity, would result in its being "taken to the shed and horsewhipped" by government regulators.
President Obama's oft-repeated falsehood, "If you like your plan, you can keep your plan" — something the administration knew was untrue — would almost certainly be a textbook case of deceptive advertising, punishable under Section 5 of the Federal Trade Commission Act, which prohibits "unfair or deceptive acts or practice in or affecting commerce." This includes a "representation, omission or practice that is likely to mislead the consumer," such that the consumer would be "likely to have chosen differently but for the deception."