Spurred to action by supporter Robert Breaux's ambition and grassroots initiative, Infowars is announcing a highway billboard contest aimed at waking up the masses and promoting liberty in your area.
Breaux strategically placed Infowars billboards on major U.S. interstates, such as in Jackson, Miss., on Interstate 55, and the billboard in Little Rock, Ark., on Interstate 40, a major route which runs almost entirely across the continental U.S.
Motorists reported seeing the billboards in several states, including Indiana, Michigan, Kentucky, Tennessee, Georgia, Alabama and Florida.
Who Is The Mysterious Infowarrior Posting Billboards Nationwide? http://t.co/H0xgUBVevS #infowars pic.twitter.com/sWmnJnKlL9

— Alex Jones (@RealAlexJones) December 9, 2014
Riding off the billboards' success, Infowars is announcing our latest contest geared to spread the message of truth even further.
This contest centers around submitting videos of creative billboard design concepts to Infowars. Film yourself handing out pamphlets of your billboard idea and posting it in legal and lawful places. Then, upload the video to Youtube, or other similar online video platforms. These videos will be judged and the winner chosen among them.
The top entry will receive a cash prize of $5,000 for the best video and billboard concept idea, and will be considered for an actual billboard to be put up at Infowars' discretion.
The best entries will be posted on Infowars.com and Prisonplanet.com.
Final deadline to be determined.
If possible, list your local Alex Jones broadcasting station's call letters somewhere on the billboard.
Feel free to utilize some of our designs below, or create your own: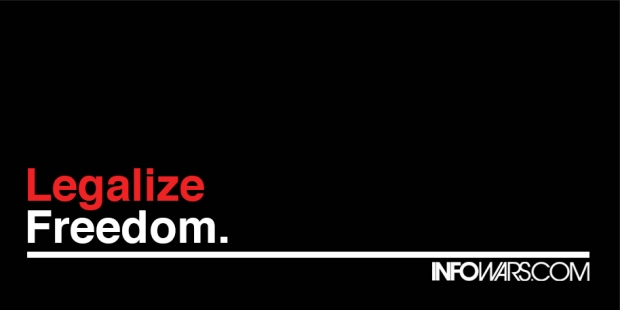 Requirements
• All work must be free of copyright issues. If requested by Infowars, you must provide detailed information regarding the source, creator and background information of your work. If you utilize any 3rd party materials, such as music, you must provide license and/or consent forms to Infowars upon request. Any news clips used must be short and clearly fair use.
• Videos must be in English or subtitled in English
• Deadline TBA
• The majority of the Content must be newly created and previously unpublished
• Submission consists of posting on YouTube or alternate video sites on or before contest deadline, and notifying Infowars at [email protected]
• Video title must include "Infowars Billboard Contest"
• Video description should include the website (http://www.infowars.com).
• Running length should be between 1 (one) minute and 5 (five) minutes
• Film should contain no profanity, offensive language, nudity or otherwise objectionable material, the determination of which is solely at the discretion of Infowars
• Multiple unique submissions are allowed and encouraged
• Cash Prize winner will agree to non-exclusive, unrestricted, royalty free use by Infowars.com and Free Speech Systems, LLC, in perpetuity in the known universe. All contest entrants authorize Infowars.com, Free Speech Systems, LLC and its media platforms to air their submission in whole or in part in perpetuity.
Eligibility
• If a collaborative effort, one person must enter
• Contestants must be over 18. Minors wishing to participate must present a signed waiver from parent/legal guardian
• Residents of Belarus, Burma/Myanmar, Cuba, Iran, Libya, North Korea, Somalia, Sudan, Syria and Zimbabwe, or to other individuals restricted by U.S. export controls and sanctions are ineligible for Cash Prize.
Judging Criteria
This is a judged contest. Winner will be picked at the discretion of Alex Jones. Judging criteria will be:
• effectiveness in promoting liberty and exposing corruption and assault on free speech
• creativity and originality
• aesthetics
Entries will be available for public viewing and comment
Cash Prize
• One cash prize winner: $5,000
Requirements for payment of cash prize are:
(1) timely delivery of a properly-executed Filmmaker Agreement;
(2) timely delivery of all properly-executed Talent Release Forms (and, if applicable, Music Rights Clearance Forms);
(3) full content clearance by Infowars of the submitted video
FAQ and Frequent Mistakes
Do I have to sign up, register or complete a form to enter?
No. Simply complete your video (look at the Requirements for details of what is required for the video), upload to YouTube or other online video sites and send us the links. There are several alternative video upload sites; for example: vimeo, dailymotion, metacafe, etc.
What constitutes copyright infringement?
We strongly suggest you review what constitutes Fair Use. News clips, subject to fair use, may be used, however, bear in mind that the length of the clip used is a key factor in determining fair use. Long clips are also not good editing practice when trying to make your content compelling.
Frequent Mistake: Majority of content is old
New content is a requirement for winning a cash prize.
Frequent Mistake: Incorrect title and description
Video title should include "Infowars.com Billboard Contest." Video description should also include the website (http://www.infowars.com). Please read contest rules carefully for other requirements.
Our powerful B vitamin formula, Ultra 12, is now back in stock at 50% off with double Patriot Points and free shipping!