Documents allegedly taken from the Clinton Foundation were released online Tuesday by the hacker Guccifer 2.0.
The hacker claims to have obtained "hundreds of thousands" of documents after gaining access to Clinton Foundation servers at an unknown time and date.
"So, this is the moment. I hacked the Clinton Foundation server and downloaded hundreds of thousands of docs and donors' databases," Guccifer 2.0 writes. "Hillary Clinton and her staff don't even bother about the information security. It was just a matter of time to gain access to the Clinton Foundation server."
A screenshot posted by the hacker, allegedly showing the contents of the server itself, reveals folders concerning everything from alleged donation information to the Democratic National Committee and Democratic Congressional Campaign Committee.
"As you can see, the private server of the Clinton clan contains docs and donors lists of the Democratic committees, PACs, etc. Does it surprise you?" the hacker asks.
A second screenshot in the blog post reveals a "small list of donors," which includes names and email addresses among other information, while another mentions New York Congresswoman Carolyn B. Maloney and former politician Barney Frank.
"It looks like big banks and corporations agreed to donate to the Democrats a certain percentage of the allocated TARP funds."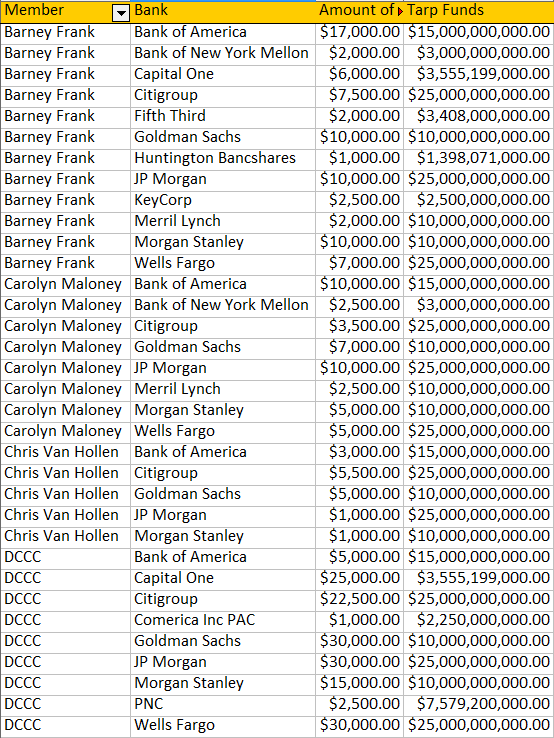 According to Guccifer 2.0, the leak only represents a small sampling of hacked Clinton Foundation data.
"I can't post all databases here for they're too large. I'm looking for a better way to release them now."
After providing a download link to other documents, which now appears to be offline, the hacker used the opportunity to congratulate WikiLeaks on its 10 year anniversary.
"P.S. I'm pleased to congratulate Wikileaks on their 10th anniversary!!!" he writes. "Julian, you are really cool! Stay safe and sound!"
Clinton Foundation President Donna E. Shalala took to Twitter shortly after the release and denied the documents came from the foundation.
No evidence of a #Guccifer hack at @ClintonFdn, no notification by law enforcement, and none of the files or folders shown are ours.

— Donna E. Shalala (@DonnaShalala) October 4, 2016
Politico writer Eric Geller also notes that the documents appear to be from the DCCC, not the Clinton Foundation.
"One person familiar with the documents said the files appeared to be from the Democratic Congressional Campaign Committee, which was hacked earlier this summer," Geller writes.
The Hill also reports that the alleged donor list leaked by Guccifer 2.0 does not appear to be from the Clinton Foundation as well.
"A spot check of some of the people on the donor list against FEC filings found that they all lined up with DCCC contributions."
Examination of metadata by Ars Technica editor Sean Gallagher also showed that some of the documents belonged to the DCCC and were produced by a DCCC staff member.
If this doesn't prove the "Clinton Foundation" docs from Guccifer 2.0 were actually from the DCCC breach, ¯\_(ツ)_/¯ pic.twitter.com/pLsWgGsNYH

— Sean Gallagher (@thepacketrat) October 5, 2016
When asked to comment on why none of the documents appeared to come from the Clinton Foundation, Guccifer 2.0 told Infowars that he stood by his initial claims.
"i confirm they r from the cf server," the hacker said.
As reported by Reuters in August, sources claimed the Clinton Foundation had hired a private security firm to "examine its data systems" after indications suggested they may have been hacked.
This latest breach follows several other high-profile hacks against multiple Democratic groups that have rocked the 2016 election.
Many in the cybersecurity community and a growing number of U.S. government officials have placed blame on Russia for the election cycle's hacks.
Guccifer 2.0 has also been accused of being nothing more than a Russian disinformation campaign after making what appears to be several operational security mistakes. Despite claiming to be from Romania, the hacker was unable to speak the language properly when asked by journalists. Guccifer 2.0 also left behind Russian writing in the metadata of several leaked documents.
The Emergency Election Sale is now live! Get 30% to 60% off our most popular products today!