Alex Newman
New American
January 3, 2012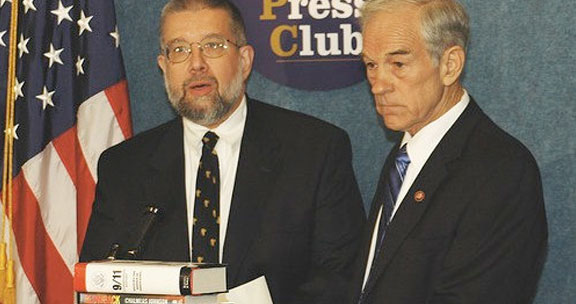 The former head of the Central Intelligence Agency (CIA) unit tracking terror leader Osama bin Laden, Michael Scheuer (left), endorsed Republican Rep. Ron Paul of Texas for President in 2012, days before the Iowa caucus. He argued, among other points, that the top-tier GOP hopeful is the best candidate to protect America from violent Islamic extremism.
In a column entitled "Iowa's Choice: Dr. Paul or U.S. bankruptcy, more wars, and many more dead soldiers and Marines" published on his website over the weekend, Scheuer said voting for any candidate other than Paul would help inflict further damage on an already-wounded America. It would also contribute toward the continuation of a foreign policy that will ensure total national bankruptcy, noted the 22-year intelligence-community veteran, who now serves as an adjunct professor at Georgetown University's Center for Peace and Security Studies.
"Dr. Paul's non-interventionist policy will allow foreigners to work out their political destiny in their own way and at their own pace; prevent unnecessary additions to America's growing list of enemies; and save countless young lives," Scheuer wrote in his endorsement, blasting senior leaders and lawmakers on both sides of the aisle with harsh words. "Electing anyone but Ron Paul will further increase the already strong chances of widespread Islamist-conducted violence inside the United States."
Scheuer, who has authored several books criticizing U.S. foreign policy, emphasized the fact that Paul's campaign has received far more donations from the American military than all other Republican candidates combined. He also lambasted establishment talking heads and politicians for improperly mischaracterizing the 12-term GOP Congressman's non-interventionist views, pointing again to his strong support among members of the armed services.
The Save Infowars Super Sale is now live! Get up to 60% off our most popular products today!