Awesome scenes of destruction are pouring out of California, where several wildfires have burned through tens of thousands of acres, compelling the governor to declare a state of emergency.
At least 17 fires burning throughout The Golden State have forced thousands of residents to evacuate and are stretching rescue and fire crews thin.
An interactive Google map shows wildfires burning from San Diego on through Oregon.
The Carr fire burning near Redding and Whiskeytown Lake in Northern California is being described as the ninth most destructive blaze in the state's history and has already destroyed 100 thousand acres.
Footage out of Shasta County showed a massive pyrocumulus cloud, similar to a volcanic explosion, rising into the sky.
"The Carr Fire prompted mandatory evacuations for tens of thousands of people in Redding, a city hundreds of miles north of San Francisco. It has destroyed over 650 houses," reports the Associated Press, adding that 38,000 people have been displaced from their homes.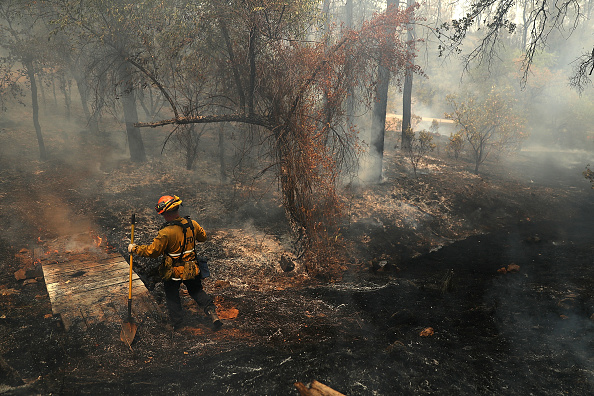 Six people have reportedly died in the fire, with one man, Ed Bledsoe, claiming he never received evacuation orders after leaving his wife and great-grandchildren at home.
"Bledsoe says he received a phone call from his wife 15 minutes later saying he needed to get home because the fire was approaching. He says one of the children told him the fire was at the back door," according to the Associated Press.
The Shasta County sheriff claimed there is evidence door-to-door announcements were made.
Fatigued crews are also struggling to contain other blazes burning near Lakeport and Mendocino Counties where more than 10,000 people are under evacuation orders.
Many are pointing to dry vegetation and extreme heat as causes for the numerous fires, however, some are being blamed on arsonists.
At the same time, law enforcement departments are combating thieves taking advantage of evacuation orders to loot unattended homes.
One former marine, Tucker Zimmerman, is credited for assembling a crew of folks to help rescue livestock for people who had to evacuate quickly.

Infowars' most powerful product is back in stock! Get DNA Force Plus at 60% off now!