Hillary Clinton has described the timing of new FBI disclosures regarding the investigation into her private email server, just days before the US presidential election, as "strange", "unprecedented" and "deeply troubling".
Speaking at a rally in Daytona Beach, Florida on Saturday, the Democratic nominee said the letter sent on Friday from FBI director James Comey to Republican congressional committee chairs, informing them of developments in the email investigation, was "deeply troubling, because voters deserve to get the full and complete facts."
In the letter, Mr Comey said only that the bureau was reviewing a newly discovered cache of emails, which "appear to be pertinent" to the long-running probe of Ms Clinton's use of a private email server during her tenure as Secretary of State. The emails were discovered "in connection with an unrelated case," the FBI director wrote.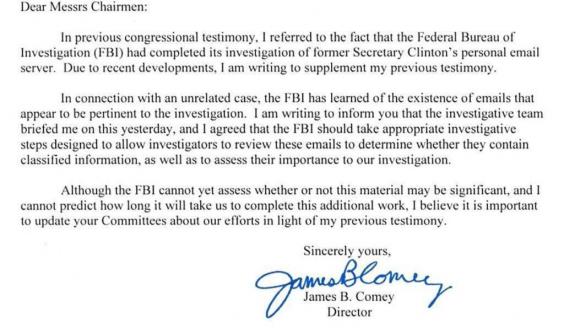 FBI director James Comey's letter to congressional committee chairs
It subsequently emerged that the emails were found on a device shared by Clinton aide Huma Abedin and her estranged husband, former New York Congressman Anthony Weiner, who is under investigation for allegedly sending explicit electronic messages to a 15-year-old girl in North Carolina.