Matt Bewig
All Gov
February 11, 2013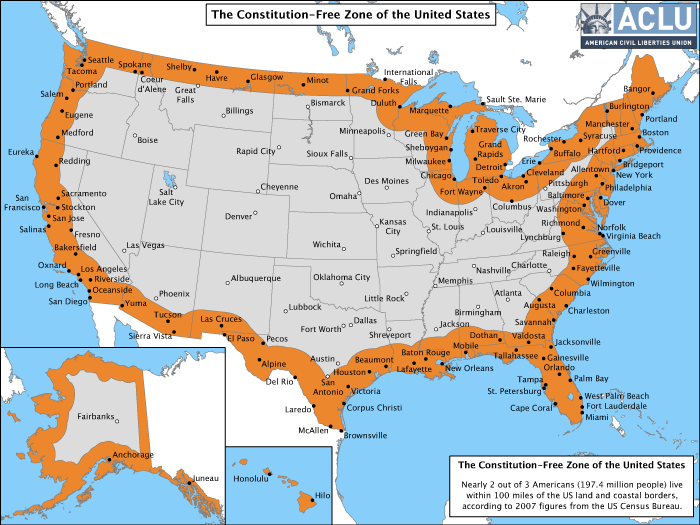 Americans have no Fourth Amendment rights against unreasonable searches and seizures if they happen to be within 100 miles of the border, according to the "Executive Summary" of a still-secret report by the Department of Homeland Security (DHS). As the ACLU-created map above shows, nearly 2/3 of Americans (197 million people)—including the entire populations of Florida, Maine, New Hampshire, Vermont, Massachusetts, Connecticut, Rhode Island, New Jersey, Delaware, Maryland, Washington, DC, and Michigan—live in this "Constitution free" zone, as do the residents of the nation's five most populous cities: New York, Los Angeles, Chicago, Houston and Philadelphia.
The secret report is DHS's response (two years late) to critics of its policy, in place since at least 2008, of allowing border control agents, without a warrant or even a suspicion of wrongdoing, to search any travelers' electronic devices (laptops, cell phones, tablets, cameras, etc.) and seize data they find. According to a Freedom of Information Act request (FOIA) filed three years ago by the ACLU, DHS subjected more than 6,500 travelers—nearly half of them U.S. citizens—to searches under this policy between October 2008 and June 2010.
The Executive Summary of the secret report, which DHS is allowing the public to see, sets forth its conclusions without even summarizing the reasoning underlying them.
Our 4th of July Super Sale has been extended! Get double Patriot Points and free shipping on the hottest items!