Jack Kenny
The New American
May 6, 2014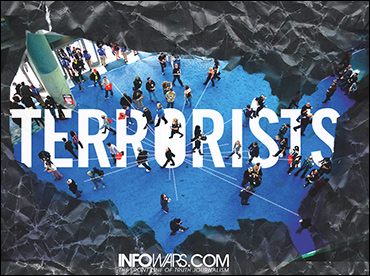 To an outside observer, it might appear that the U.S. Department of Homeland Security has taken on too many missions. But a series of articles appearing recently in the Albuquerque Journal in New Mexico suggests that the DHS has but a single mission: one called "everything."
Created by an act of Congress signed by President George W. Bush in November 2002, just over one year after the September 11 terrorist attacks on the United States, the DHS merged 22 federal agencies into one vast department charged with the task of preventing terrorist attacks, reducing the nation's vulnerability to terrorism, and assisting in the recovery from any terrorist acts that might occur and from any other disasters, natural or man-made. That might seem like a large enough task for any organization, even one that is currently the third largest department of the U.S. government. But DHS is also involved in many law enforcement and crime prevention efforts that appear far removed from combating terrorism and terrorist-related activities. In New Mexico, the Albuquerque paper reported, Homeland Security Investigation (HSI) officers have been working with local police and the state attorney general's office on investigations regarding gang activity, missing and exploited children, pickpocket rings, and stolen and fraudulent Native American art.
"Native American culture is very important here in New Mexico, and we want to preserve that," Kevin Abar, assistant special agent in charge of Homeland Security Investigations, explained to the Journal. Preserving culture might seem a far cry from defending the nation from terrorist attacks, but an investigative unit that has, according to the DHS website, 10,000 employees and 6,700 special agents in more than 200 U.S. cities and 47 foreign countries, is obviously waging a war on terror that knows no bounds. Some agents will even call on strip club dancers for their country, the Journal reported:
HSI isn't just working criminal cases; it is also trying to prevent them. Last June, HSI's Albuquerque field office announced it would meet with adult dancers and strip club owners to train them about the dangers of sex trafficking and how to recognize it. Agents are planning seminars and workshops at retirement centers to inform older residents about lottery, IRA and jail fraud schemes. And the agency last month announced a program that will send DHS officers into schools and nursing homes, where they will teach young and old alike about the dangers of Internet predators.

"We want to secure the Internet and make sure the individuals on it understand the pitfalls, and that they can become victims," Abar said.
What the paper labeled "mission creep" by the department might more accurately be called mission gallop. The number of HSI officers in New Mexico has "more than quadrupled" in the past three years, Abar told the Journal. Nationally, the numbers reflect a success in empire building those outside the DHS tentacles might envy. Those 10,000 investigators are but a small part of an army of 240,000 people employed in various capacities by a department spending $61 billion this year, up from $29 billion in 2003, its first year of operation. And as the department has grown in size and dollars, it has developed what Abar described as a "symbiotic relationship" with local law enforcement.