Kurt Nimmo
Infowars.com
January 16, 2013

Like clockwork: Days after France invaded Mali following action by the United Nations, "Islamic militants," predictably described as mixed up with al-Qaeda, have taken Western hostages in neighboring Algeria.
"In what could be the first spillover from France's intervention in Mali, Islamist militants attacked and occupied a natural gas complex partly operated by energy company BP in southern Algeria on Wednesday. Two foreigners were killed and dozens of others, including Americans, were taken hostage," the AP reports.
A militant group claimed responsibility for the attack, saying it was in revenge for Algeria's support of France's operation against al-Qaida-linked Malian rebels groups far to the southeast. It said it was holding 41 foreigners, including seven Americans.
Algeria is permitting France to use its territory to conduct raids on northern Mali.
"U.S. citizens were among the hostages," said Victoria Nuland, spokesperson for the U.S. State Department.
The AP reports that a group called the Katibat Moulathamine, aka the Masked Brigade, contacted a Mauritanian news outlet and said one of its affiliates carried out the operation on the Ain Amenas gas field.
Katibat Moulathamine was allegedly formed when Algerian Moktar Belmoktar broke away from al-Qaeda in the Islamic Maghreb to form his own group.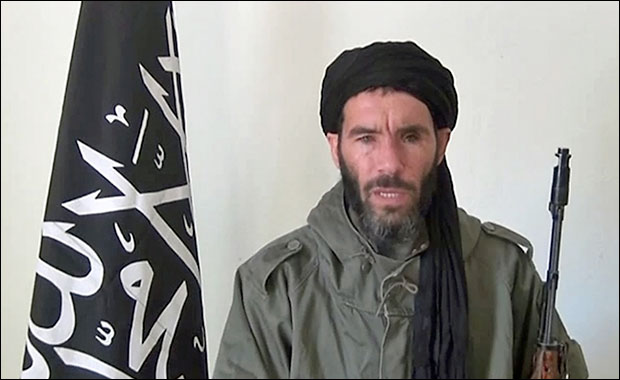 Algerian Moktar Belmoktar.
Belmoktar was trained in Afghanistan following the defeat of the Soviets by the CIA-trained and supported mujahideen that ultimately morphed into the Taliban and al-Qaeda.
The hostage situation arises as the Pentagon prepares to intervene in Mali.
The Emergency Election Sale is now live! Get 30% to 60% off our most popular products today!