Kurt Nimmo
Infowars.com
March 4, 2013

Now that politicians and the establishment media have intertwined mental health and proposed gun laws, the top cop in Houston wants to change Texas law to make it legal for police to seize guns from citizens they determine are mentally ill.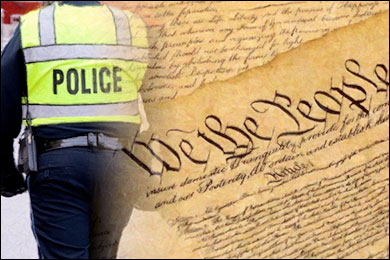 A proposed law will amend the mental health code of Texas and allow police to confiscate a weapon taken from a person they determine is "experiencing a mental health crisis and has been found to be a danger to himself or others and is being transported by police for an emergency mental health evaluation," according to the Associated Press.
Houston Police Chief Charles McClelland wants the Legislature to require a judge to decide if citizens referred for mental health treatment are qualified to exercise the Second Amendment. McClelland has teamed up with Republican state Rep. Allen Fletcher who is drafting a bill to keep firearms confiscated from citizens by the police in a property room until a judge decides if it should be returned.
"I'm not trying to take guns from citizens in this country, but there should be an additional judicial review," McClelland told the AP. "Someone, other than the police, should have to review that case or that incident requiring that mental evaluation, to tell me if this person is still qualified to own or carry a firearm" and have it returned.
McClelland said police need the ability to confiscate a firearm prior to a determination by the state.
"Whenever that person's (mental) evaluation is completed, because of HIPAA laws and medical privacy issues, I have no way of knowing if this person still qualifies to carry or have a firearm," McClelland said. "But when they show up at the property room, I have no choice but to give it back. And I want to give it back if they still qualify."
San Antonio's top cop supports McClelland's effort. "My stance on gun laws is not a political one," San Antonio Police Chief Bill McManus said in a statement. "I am a proponent of any law that keeps guns out of the hands of people who shouldn't have them and any law which enhances public safety and officer safety."
During his anti-Second Amendment address in January, Obama conflated firearm ownership and mental illness when he signed nearly two dozen unconstitutional executive actions. According to the establishment media, "mental health emerged as a core feature of the president's plan to prevent further tragedies like the Dec. 14 shooting in Newtown, Conn."
However, according to Paul Appelbaum, a professor of psychiatry, medicine and law at the Columbia University College of Physicians and Surgeons in New York, only between 3 and 5 percent of violent crime is due to mental illness.
New York's recently passed gun law requiring mental health professionals to report people they consider potentially violent will not prevent gun violence. "We're not likely to catch very many potentially violent people" with laws like the one in New York, Barry Rosenfeld, a professor of psychology at Fordham University in The Bronx, told NPR in January. Laws like the one ushered in by New York's Democrat governor "cast a very large net that will probably restrict a lot of people's behavior unnecessarily," Rosenfeld said.
Also, Ultra 12 is back by popular demand! Get the ultimate source of energy at 40% off now!