Donna Anderson
Infowars.com
April 15, 2013

A self-confessed illegal immigrant in Milford, Mass., faces up to 15 years if found guilty of vehicular homicide but it's a big "If." As it stands right now, Nicolas D. Gauman has been found incompetent to stand trial because he doesn't speak English and doesn't understand the American legal system. Critics say Guaman had an accomplice – Massachusetts Governor Deval Patrick.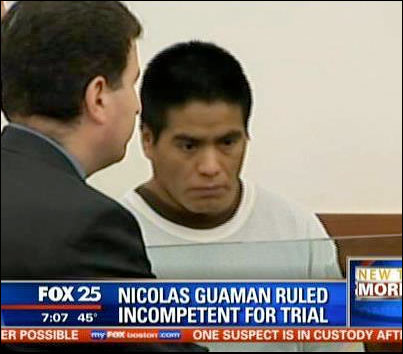 In August 2011, 34-year-old Ecuadorean Nicolas Guaman, who admits he's in the country illegally, decided to get behind the wheel of a borrowed 2004 black Ford pick-up truck and go for a drive. The only problem was he was drunk, at nearly three times the legal limit.
Guaman allegedly failed to yield at a stop sign and struck a motorcycle being driven by 23-year-old Matthew J. Denice. Denice was trapped under the wheels and pulled under Guaman's truck, and Guaman continued to drive, attempting to flee the scene, dragging Denice more than a quarter-mile. Gauman finally ran his truck up on a curb and dislodged Denice's body… and then backed his truck over it while he was trying to escape.
Officers pursued Guaman down several roads in Milford before he was finally apprehended. Officer Angel Arce said Guaman had "bloodshot and glassy eyes," and there were several Budweiser beer cans inside the truck. Guaman's 6-year-old son was also in the truck and when he got out he started punching and kicking the police officers, yelling at them to leave his father alone.
Guaman was arrested and faces a laundry-list of charges, including: Negligent vehicular homicide while driving under the influence of liquor, leaving the scene of an accident involving personal injury and death, possession of an open container of alcohol in a vehicle, failure to stop for police, unlicensed driving, failure to yield at a stop sign, resisting arrest and wanton or reckless conduct creating risk to a child.
Denice, who had recently graduated from Framingham State University and hoped to get a job in law enforcement, was pronounced dead at Milford Regional Medical Center.
"It's a distressing event," said Milford Police Chief Thomas O'Loughlin. "You have a young man, his whole future ahead of him. He was 23, just finishing college, by all accounts a good guy. Professionally, it was a horrific scene to be involved in. … Your heart aches for the family."
At the time of his arrest, Guaman was ordered held on $100,000 cash bail and on Thursday, April 11, 2013, Judge Janet Kinton-Walker, appointed by Gov. Deval Patrick in 2009, ruled that he was incompetent to stand trial because "Guaman's 'unique cultural background' and language barrier means that he doesn't understand the court process. The court also said that he lacks the ability to consult with his attorney properly."
Others seem to have a lot of sympathy for poor Mr. Guaman. A local business owner said Guaman was a "hard-worker" and had been his customer for five years. Guaman's wife said she hoped her husband would be deported to Ecuador "so he doesn't have to suffer here."
And Eva Millona, executive director of the Massachusetts Immigrant and Refugee Advocacy Coalition, said she was worried. "We seem to continue to lose supporters," she said, and added that it was unfair to connect drunk driving with illegal immigration. "Drunk driving is another issue, and people should be punished for it," she said. "But immigration status has nothing to do with it."
But this isn't Guaman's first time in court. According to O'Loughlin, Guaman had three previous arrests for driving without a license. "He'd also served one year of probation from May 2008 to May 2009 for charges that included assault and battery on a police officer and assault on a firefighter after a 2008 incident in which he interfered with the treatment of a family member who had allegedly attempted to enter someone else's home," O'Loughlin said.
Obviously, Guaman has plenty of experience with the American legal system, and if he's been in this country since at least 2008 he probably also has a pretty good command of the English language, at least enough to convince a judge he only needed one year of probation after assaulting a police officer and a firefighter after already being arrested for several other crimes..
Critics say if it weren't for Gov. Deval Patrick's refusal to participate in the Federal State "Secure Communities" program, Guaman would have been deported long ago and Matthew Denice would still be alive.
In June of 2011, Patrick decided that Massachusetts would not participate in a federal program called "Secure Communities." This program allows state and local law enforcement agencies to forward arrestee fingerprints to Homeland Security to check for immigration violations. Patrick's reason for non-participation was because he felt the federal program "casts too wide a net," and immigrants with no criminal histories might be wrongly deported.
However, Governor Patrick says this case is all about "grandstanding and headlines", and that Massachusetts already sends fingerprints of arrestees to the F.B.I., which is free to share them with immigration agents. And once a criminal is convicted and arrives in state prison his fingerprints are automatically sent to the immigration agency.
According to the Secure Communities web page, the program utilizes an already-existing federal information-sharing partnership between ICE and the FBI to help identify criminal aliens. As long as the local authorities submit fingerprints to the FBI they'll be automatically sent to DHS to check against immigration databases.
If that's the case then Guaman should have been deported years ago, assuming Gov. Patrick is right when he says all fingerprints are sent to the federal government. So who's really dropping the ball here, Gov. Patrick or the Department of Homeland Security?
By the way, people who know what's coming are taking advantage of our healthy & delicious storable food!