Kerry Picket
Breitbart
January 7, 2014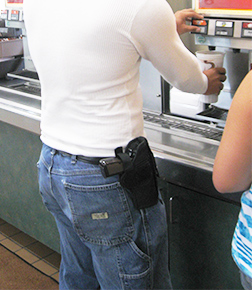 On the heels of a federal court striking down Chicago's ban on gun sales, those seeking gun permits in Illinois flooded the State Police website over the weekend to begin the permitting process.
In fact, the amount of Illinois residents seeking a conceal carry permit already surpasses those who enrolled in Obamacare after the first two months of the launch of healthcare.gov. The Chicago Sun-Times reported 4,525 individuals signed up on Sunday alone for their firearms permits, when the State Police first opened the process to all concealed carry applicants.
Illinois State Police spokeswoman Monique Bond said that number is included in Sunday's total of more than 11,000 people who have signed up because of an early application process that began December 18 and was open to only firearm instructors. Officials told the Sun-Times they expect 350,000 to 400,000 people (about 1,000 per day) will sign up for conceal carry firearm permits this year.
The Emergency Election Sale is now live! Get 30% to 60% off our most popular products today!