The states of New York and New Jersey have announced they will be requiring a mandatory 21-day quarantine for people with the highest possible risk of Ebola exposure at "government-regulated facilities."
With the threat of Ebola being used to prop up the rising police state, help wake the public to Obama's growing tyranny by participating in Infowars' latest contest: "#Obola: #TyrannyIsTheDisease."
Film yourself putting posters up in lawful areas and you could win big bucks!
First prize wins $5,000 by producing a poster and a video of its placement in a lawful public commons area. Second prize wins $2,000 and third prize wins $500.
The poster should stress the term #Obola, or lampoon the word #Ebola by switching the letter "o" out for Obama's familiar rising sun logo, and must include the "Infowars.com" web address.
Infowars is providing a few examples of posters to choose from (also below), however, we also encourage you to get creative and come up with your own motif. Make the poster about Ebola and guns, vaccines, war, etc.; the sky's the limit.
This contest is similar to the "Stop Dictator Obama" contest we ran a few years back.
Watch a sample contest entry below to get an idea of what we're looking for:
Make sure you read all of the rules to ensure your entry is eligible.
Send entries with your Facebook and Twitter info to [email protected].
Contest ends October 24 at midnight with the winner to be announced on October 31.
Infowars poster ideas are below (click for larger images):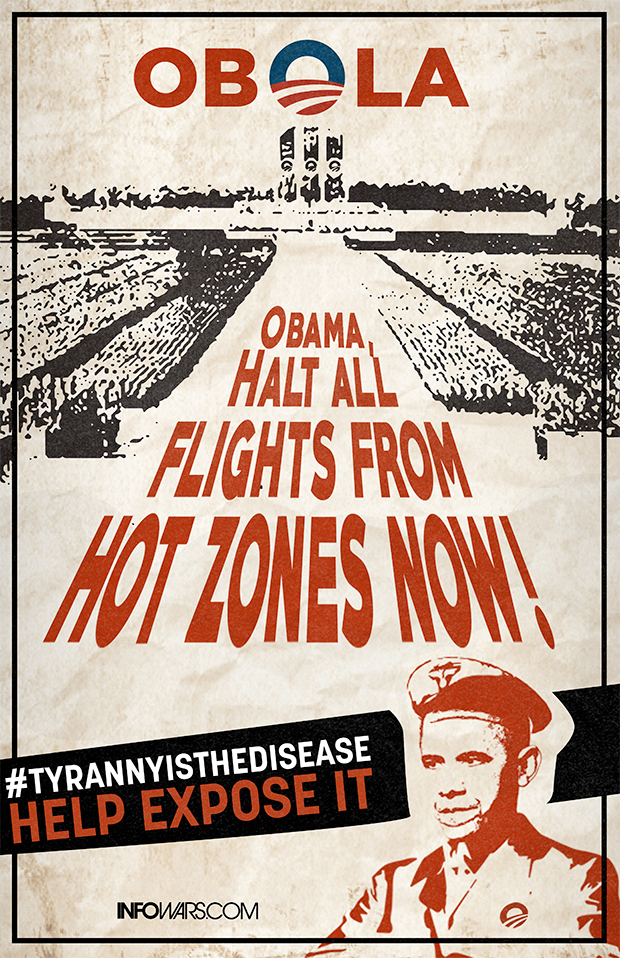 Our 4th of July Super Sale has been extended! Get double Patriot Points and free shipping on the hottest items!