NewsDay
February 28, 2013
Austin, Texas – The Oscars can be a huge bump for winners like Argo to cash in at the box office and can boost the careers of all nominees. Now independent filmmakers who love liberty — Directors, Cinematographers, Editors, Videographers, Screenwriters — will have the opportunity to reach a large audience and boost their careers, as well as a chance to win $100,000 Grand Prize, $10,000 Second Prize and $5,000 Third Prize. All entries into the "Operation Paul Revere" contest and online film festival will also be entered into a talent search for filmmaking professionals to produce original content for InfoWars studio.
With over 437,000 subscribers to TheAlexJonesChannel on YouTube combined with Alex Jones' syndicated radio show and InfoWars.com & PrisonPlanet.tv websites, this virtual film festival will showcase filmmakers' work to a much larger audience than the majority of film festivals. Wide latitude will be given for subject matter as long as it promotes individual liberty. Films of any genre are eligible. Running lengths can be from 3 minutes (trailer length) to 2 hours (full feature length). The contest is open not just to Americans, but to people from all over the world who love liberty.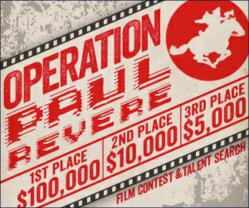 InfoWars knows there's a war on for the mind of the public. Individual liberty has never been more endangered than it is now because most of the public is happy to give up liberty for the mere promise of security. Filmmakers have the tools to influence society, change that mindset and win the InfoWar. This online film festival and cash contest is a call for filmmakers to tell a story that inspires a love of liberty, makes clear the present dangers to it, and motivates the audience to peacefully defend it.
This is also a talent scouting effort to find people who can produce compelling content quickly so submissions must be newly created content. InfoWars is looking to hire people out of the pool of contestants to form a core with the rest of our crew to be researchers, writers, and directors for a group of films. Alex Jones is a prolific filmmaker having produced 23 films and once the team is formed, we will launch a program to produce at least 3 big films a year and dozens of smaller films financed by InfoWars.
The submission deadline is April 30, 2013. Contest requirements and FAQs can be found at http://www.infowars.com/contest.
The next evolution of activated nascent iodine, Survival Shield X-3, is back in stock at 50% off with double Patriot Points and free shipping!