Infowars.com
March 17, 2013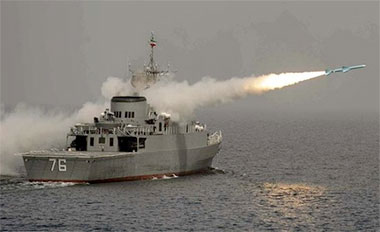 As tension grows over Iran's nuclear program, the Islamic Republic has given its military the go-ahead to counter attack, according to Press TV.
"Our commanders have received authorization to immediately respond to any hostile action by the enemy without allowing enemy to think twice [about its act of aggression]," Brigadier General Masoud Jazayeri, the Deputy Chief of Staff of Iran's Armed Forces, said on Saturday.
Press TV reported that the decision was made in response to recent threats by Israel to attack Iran. On March 4, in a speech delivered to the annual American Israel Public Affairs Committee, Israeli prime minister Benjamin Netanyahu said if Iran crosses "the red line" Israel has established a military response to its nuclear program is inevitable.
"Words alone will not stop Iran. Sanctions alone will not stop Iran. Sanctions must be coupled with a clear and credible military threat if diplomacy and sanctions fail," Netanyahu said.
On Sunday, Iran launched a domestically built Jamaran-2 guided missile destroyer from the port city of Anzali, about 150 miles northwest of Tehran on the oil-rich Caspian Sea.
Iran, Russia, Azerbaijan, Kazakhstan and Turkmenistan are at odds on how the strategic area should be divided.
Remember, it's not a matter of IF you'll need storable food, but WHEN!