Yeganeh Torbati
Reuters
August 13, 2012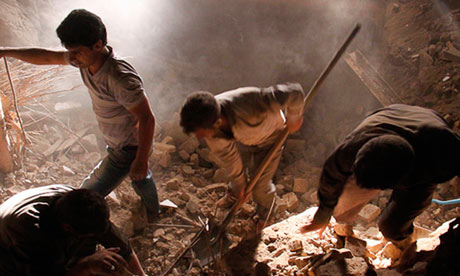 Rescue teams rummage through rubble looking for victims of the earthquakes and aftershocks. (Photo: Reuters)
Iran's government faced criticism on Monday over its response to two earthquakes that killed 306 people, with complaints of a lack of tents and about President Mahmoud Ahmadinejad's decision to go ahead with an overseas trip.
Although officials announced on Sunday, less than 24 hours after disaster struck, that search and rescue operations had finished and all survivors had been freed from the rubble, some locals expressed disbelief that authorities could have reached the most remote villages so soon.
"I know the area well. There are some regions where there are villages that you can't even reach by car," one doctor in the city of Tabriz told Reuters by telephone on Monday, declining to give his name because of the sensitivity of the issue. "It's not possible for them to have finished so soon."
Experience the massive benefits of our Ultimate Krill Oil now at 60% off!