An ISIS-linked media group threatened new attacks in France Monday just days after three jihadists killed seven people in London.
Nashir News Service, which posts content on the messaging app Telegram, released a statement in which it warned of further "horror" unless the French government ceased its campaign against the Islamic State.
According to a screenshot of the message, posted to Twitter by terrorism analyst Michael S. Smith II, the announcement originates specifically from "the soldiers of the Commander of the Faithful in France."
BREAKING Unusual post on Islamic State-linked Nashir News channels threatens worse attacks in France than Paris and Nice pic.twitter.com/Z8xwJvj6rp

— Michael S. Smith II (@MichaelSSmithII) June 5, 2017
"A message from the soldiers of the Commander of the Faithful in France to the French people: O people of France, demand that your government stop its campaign against the Islamic State, otherwise we will carry out invasion and invasion operations, Horror as you have already lived in the city of Paris and Nice," a translation of the French comment states. "Peace be upon those who have guided. Soldiers of the Islamic State in France."
The latest statement comes only hours after Nashir called upon other would-be jihadists Sunday to "kill the civilians of the crusaders" during the Muslim holy month of Ramadan.
ISIS supporters on Telegram Sunday also continued celebrating the attacks in London where three men rammed numerous pedestrians in a white van before stabbing others. All three perpetrators, who began the attack on the London Bridge, were shot and killed by police at the Borough Market within 8 minutes of the first call to emergency services.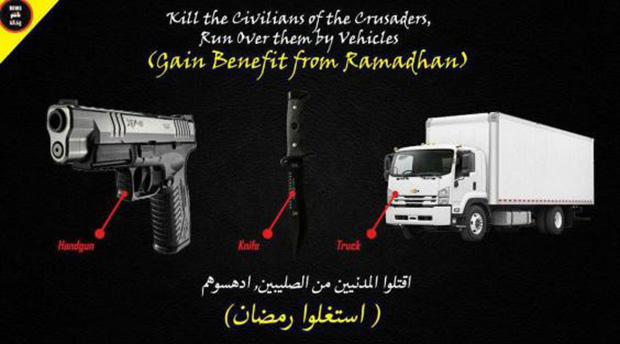 The London attack follows the suicide bombing at an Ariana Grande concert late last month in Manchester that took the lives of 22.
The Emergency Election Sale is now live! Get 30% to 60% off our most popular products today!