Newscore
March 3, 2012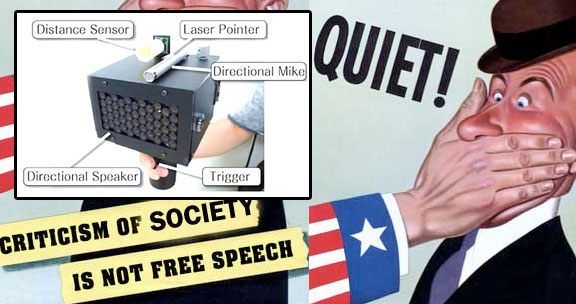 COMMENT: Interesting this is sold under the mundane-sounding application of quieting libraries. Instead, the implications for demonstrations and confrontations of public officials is clear, should this technology be widely deployed. It is free speech under threat by the sci-tech dictatorship, case in point.
TOKYO (Newscore) – Japanese researchers have invented a speech-jamming gadget that painlessly forces people into silence.
Kazutaka Kurihara of the National Institute of Advanced Industrial Science and Technology, and Koji Tsukada of Ochanomizu University, developed a portable "SpeechJammer" gun that can silence people more than 30 meters away.
The device works by recording its target's speech then firing their words back at them with a 0.2-second delay, which affects the brain's cognitive processes and causes speakers to stutter before silencing them completely.
[…]
Kurihara and Tsukada suggested the speech-jamming gun could be used to hush noisy speakers in public libraries or to silence people in group discussions who interrupt other people's speeches.