Osha Gray Davidson
Forbes
April 12, 2011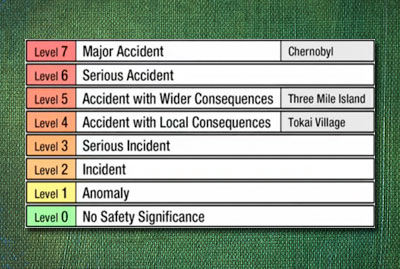 The Japanese Nuclear Safety Commission (JNSC) has decided to raise the threat level posed by the crisis at the Fukushima Daiichi (FDI) nuclear power plant to equal the 1986 disaster at Chernobyl, according to the state-run television network, NHK.
Previously, the commission held that the amount of radiation released from FDI warranted only a level 5 designation on the International Nuclear Event Scale (which runs from 1 to 7). The 1979 U.S. meltdown at Three Mile Island is also rated a five.
Although the commission believes the total amount of radioactive material released into the environment in Japan is less than what was released from Chernobyl, it now considers the amount sufficient to warrant the highest possible designation because of two additional factors.
The Emergency Election Sale is now live! Get 30% to 60% off our most popular products today!