Kurt Nimmo
Infowars.com
August 9, 2011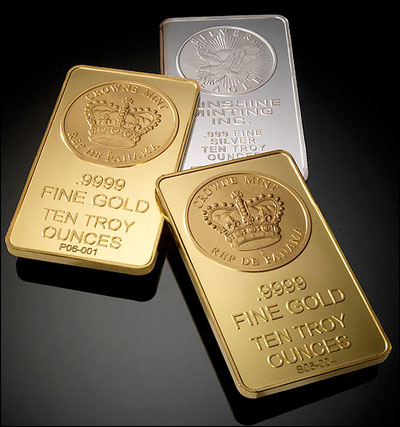 Photo: Mark Herpel.
Commodity analysts at JP Morgan are predicting the price of gold may hit $2,500 or higher per ounce by the end of the year, the Financial Post reported on Monday.
Prior to Standard & Poor's downgrading of the debt rating of the United States, the bank thought spot gold would reach $1,800 by the end of 2011. It has since revised its projection.
On Tuesday, the price continued to climb above the $1,700 mark. Gold futures for December delivery rose $31.90 to $1,745.10 after soaring to an all-time high of $1,782.50 an ounce at the Comex division of the New York Mercantile Exchange, The Street reported today.
Continued fear over the growing global depression now well underway sent industrial raw materials down on Tuesday. Oil plunged more than 4 percent and copper hit an eight-month low as investors moved to sell-off risky assets.
JP Morgan admits the rise the price of gold is due to inflation and continued weakness in the U.S. dollar.
The Federal Reserve is continuing its plan to destroy the dollar by dictating monetary policy and keeping interest rates artificially low. The stock market took off on yet another erratic trajectory Tuesday after the FOMC announced its intention on interest rates.
The dollar fell sharply against the Swiss franc and the yen after the Fed announced it would keep the interest rate low until at least mid-2013. The Fed claims doing so will stimulate the economy, but the privately owned banker cartel is in fact engineering more asset bubbles.
The Fed's "cheap money" policy inflated the housing asset bubble that collapsed with devastating result to the economy. The rise and fall of new asset bubbles will further erode the economy and with it the living standards of countless millions of people.
—
Alex Jones and Midas Resources have come together to offer you three of the most hard hitting videos ever produced: End Game, Obama Deception, and Fall of the Republic.
After viewing this collection you will know who is pulling the strings of our puppet government. It's not about Left or Right: it's about a One World Government. The international banks' plan to loot the people of the United States and turn them into slaves on a Global Plantation.
If you want to know the facts and cut through all the hype, this eye-opening film collection is for you. For a limited time this collection is being offered with three constitutional silver dollars, the real money our for-fathers intended for us to use. Order this special collection today and get the perfect solution to the perfect economic storm.