Protesters heave molotov cocktails during anti-government uprising
Infowars.com
January 22, 2014
RELATED: Crisis in the Ukraine: USAID Support for Destabilization of Russia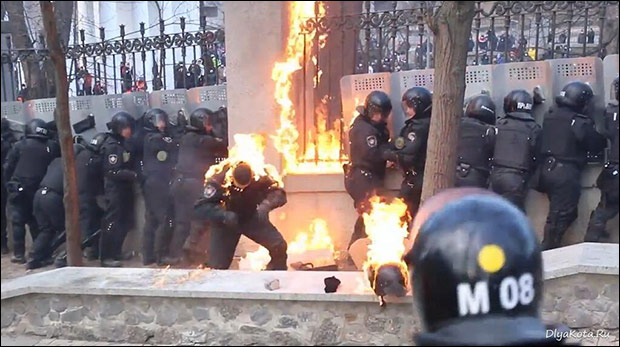 Five protesters have died during an anti-government uprising in Kyiv, Ukraine which has waged on for over four days now.
As many as 200 officers have been injured over the past four days, reports RT, with roughly 300 protesters injured as well.
The commotion has seemingly intensified upon news of the deaths, with the European Union threatening to punish Ukraine leaders for violently confronting the protesters and the U.S. government "strongly condemning" police violence.
Until Wednesday, as per the Ukraine Prime Minister's orders, police were not allowed to possess firearms during the confrontation, however, CNN reports that ban has been lifted.
Police instead relied on smoke and tear gas, rubber bullets, stun grenades, molotov cocktails and also water cannons.
An order banning police use of water cannons in sub-zero temperatures was also lifted, and as reported below, at least three tanks are awaiting departure from Chernihiv just north of Kyiv.
Medics who treated the wounded activists claim at least one protester was injured by a police sniper.
The protests supposedly stem from Ukraine President Vicktor Yanukovych's decision to refuse a European Union trade deal in favor of stronger economic ties with Russia.
As reported Monday, the protests have largely been organized by USAID, the CIA's National Endowment for Democracy (NED), Freedom House (which has also been alleged to be a CIA connected organization), and George Soros' Open Society Institute.
La policía intenta protegerse de las bombas molotov lanzadas por los manifestantes. #Kiev #Ucrania pic.twitter.com/U6lL9akC9q

— Wikinoticias (@wikinoticias) January 22, 2014
Police are also hurling molotov cocktails:
@ukrpravda_news БЕРКУТ ПІДПАЛЮЄ КОКТЕЙЛЬ МОЛОТОВА КИЇВ 15:00 via REUTERS #євромайдан pic.twitter.com/zQHDzZE1rG

— Mikekomar (@mikekomar) January 22, 2014
Riot police officers gather as they clash with protestors in the center of Kiev, Ukraine pic.twitter.com/x0cQ8Onnsu

— Agence France-Presse (@AFP) January 22, 2014
Riot police take cover behind shields during clashes with pro-European protesters in Kiev (photo by Maks Levin) pic.twitter.com/KWQ4r8nJgA

— Pedro da Costa (@pdacosta) January 22, 2014
Intense photo of clashes in #Kiev by @AP Efrem Lukatsky #euromaidan pic.twitter.com/CEun0TclmY

— Patrick Witty (@patrickwitty) January 22, 2014
#Kiev is burning pic.twitter.com/stcl53qYBL

— J B A (@jba_vagabundo) January 22, 2014
BREAKING: TV station @tsnua reports battle tanks being sent off into #Kiev from #Chernihiv! Be aware! #euromaidan pic.twitter.com/r3z9jxYWaw

— Anonymous Operations (@YourAnonCentral) January 22, 2014