Typing "kill" into Twitter's search function currently returns a shocking result at the top of its search suggestions: "#KillKavanaugh." It's also currently the third autocompleted suggestion in searches for "ki" and the fourth suggestion in searches for "k" as of this writing.
That's right — by typing a single letter into search, Twitter is suggesting that its users might be interested in a hashtag about the murder of a federal judge and SCOTUS nominee.
The search suggestion was spotted by Instapundit earlier today and has been confirmed by Breitbart News.
So the first autofill on #Kill is #KillKavanaugh. @jack, how is this happening. pic.twitter.com/R2vhYtTpe2

— Instapundit.com (@instapundit) September 30, 2018
"KillKavanaugh" search suggestions were also observed by Breitbart News in seemingly harmless searches for "ki" and "k."
In hashtag suggestions, "#KillKavanaugh" currently tops the list of suggestions when users type "#Ki."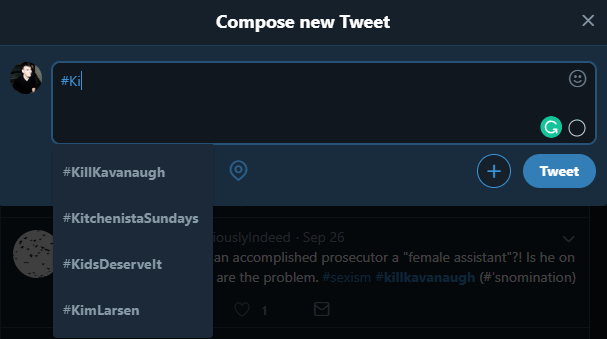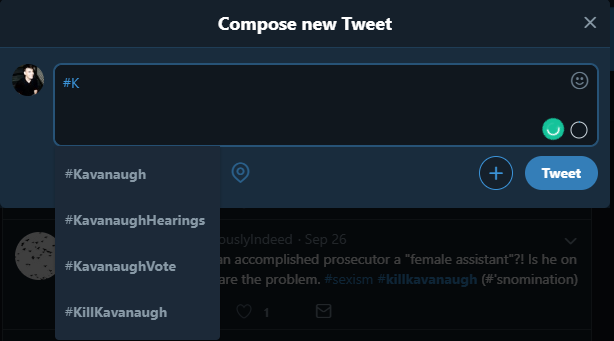 Although many current tweets on the hashtag are critical of both the hashtag and Twitter's double standards, earlier tweets use the hashtag unironically and uncritically. Several of these tweets have not been removed by Twitter, and the accounts that tweeted them do not appear to have been punished by Twitter in any way, despite the fact that some users say they have reported them.
Our 4th of July Super Sale has been extended! Get double Patriot Points and free shipping on the hottest items!