Infowars.com
June 19, 2012
Politico.com links to the following flier [PDF] for a Romney-Kissinger event scheduled for July 12, giving further reason to believe that Bilderberg 2012 may indeed have selected Mitt Romney as their presidential favorite.
Charlie Skelton and other sources confirmed multiple eyewitness sitings indicating that Romney himself may have attended the secret confab. Further, a number of possible Romney running mates were vetted at the Chantilly conference, including former Eli Lilly CEO & Indiana Governor Mitch Daniels, while other potential choices like Sen. Marco Rubio concurrently addressed the CFR. Sen. Rand Paul endorsed Romney just days after the meeting, sparking a firestorm of controversy from grassroots Ron Paul supporters.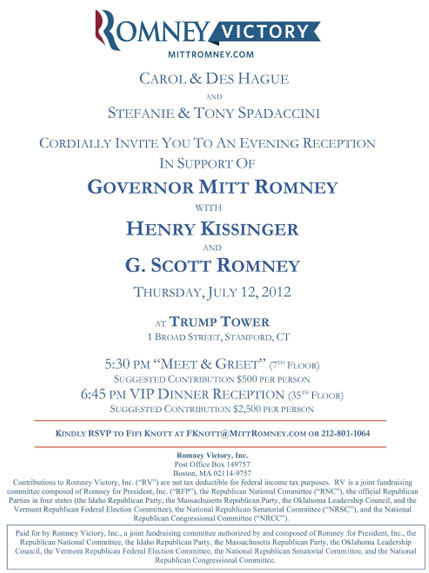 Bilderberg clearly coronated Obama in 2008, and typically back both "horses" in the U.S. general elections. Yet, several signs are indicating that Romney may be the establishment's pick this cycle. While Henry Kissinger has been embedded in the GOP for most of his life and officially endorsed John McCain in 2008, he also threw some public backing towards Barack Obama, noting his potential to bring about a 'New World Order':
Henry Kissinger photographed leaving the 2012 Bilderberg conference: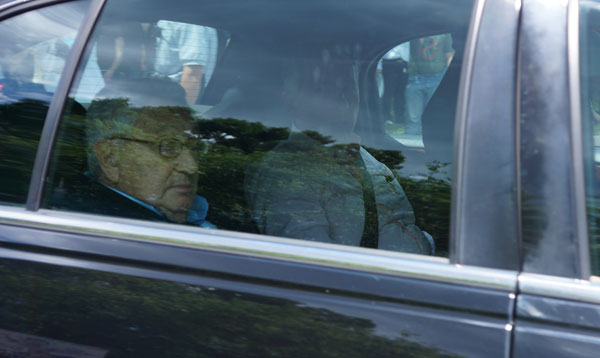 Our 4th of July Super Sale has been extended! Get double Patriot Points and free shipping on the hottest items!